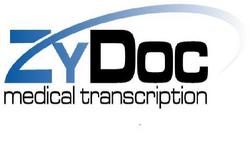 This alliance offers doctors substantial advantages over current solutions
Hauppauge, NY (PRWEB) September 6, 2007
ZyDoc Medical Transcription announced today it has formed a business alliance with Topcon Anka Systems. ZyDoc will offer transcription services that are tightly integrated with Topcon Anka Systems imaging system, EyeRoute. Both systems are ASP based and will work from any Internet-connected computer. With no change in work habits, doctors can dictate from any telephone to the TelDoc system or utilize handheld professional digital recorders. The dictation and records are tracked on the ZyDoc TrackDoc Internet site, similar to UPS packages, then transcribed and returned within the required turnaround time. The highly accurate transcribed reports are available on the web. After review, they are automatically linked to the EyeRoute system as part of the patient record. The comprehensive records and imaging studies will be available on the Internet for referring physicians.
"This alliance offers doctors substantial advantages over current solutions," according to James Maisel, M.D., Chairman of ZyDoc and Founder of the Retina Group of New York. "This solution streamlines the adoption of electronic records, is rapidly implemented, incurs no change in work habits, and requires minimal training. Ophthalmologists will be able to increase efficiency of generation and management of patient records including improved communication with referring physicians. The Internet based records are especially valued by multisite practices."
Dr. Maisel continues, "Physicians no longer have to search through charts for reports and images or read scribbled notes of associates if they can find the chart. Dictation remains the preferred method of data capture for physicians and is utilized by virtually all high-volume physicians. Many EMR companies have added dictation to their products to increase user acceptance. EyeRoute and ZyDoc have collaborated through the HL7 data standards to allow seamless integration of the transcription service and diagnostic imaging and testing results."
Ken Lee, Executive Vice President of Topcon Anka Systems and the Co-founder of Anka Systems , noted, "We are very excited about the strategic relationship with ZyDoc Medical Transcription. Working together, we can be more effective in integrating our imaging and connectivity solutions with seamless documentation and provide tremendous benefits to the doctors. These benefits will incorporate innovative technologies and lower operational costs leading to improved value for the physician. Together, we focus on the advancing needs for eye care practitioners to capture, store and retrieve digital imaging information that is increasingly being managed within the eye care practice and complement it with documentation for a complete electronic medical record. We will provide ophthalmologists with full featured networked imaging and reporting capabilities."
Availability
Doctors can obtain information about the EyeRoute system at the Topcon Medical web site and enroll on the ZyDoc Medical Transcription web site for a free trial of ZyDoc medical transcription services. ZyDoc is a leading provider of ophthalmic transcription services for hospital ophthalmic departments, ophthalmic group practices and ambulatory surgery centers. ZyDoc medical transcription is also available as a member benefit through the New York State Ophthalmology Society and the International Vision Network (IVN).
About ZyDoc Medical Transcription
Founded in 1993, ZyDoc is a privately held, full service, e-transcription company featuring HIPAA compliant web-based records, e-signature, faxing, and legacy integration solutions. Physicians, transcription companies, and hospitals use these services to produce, organize, and distribute multispecialty patient documentation. The company uses award winning technology, workflow enhancements, and the Internet with ASP applications. ZyDoc was ranked 3rd nationally in medical transcription by the Medical Records Institute and has also won awards from the medical informatics, speech recognition, and software industries. The technology platform is augmented by a staff of US-based level II and III transcription editors, proofreaders and quality assurance team.
About Topcon Medical Systems, Inc.
Based in Paramus, NJ, Topcon Medical Systems (TMS) is a leader and technical innovator in the field of ophthalmic instrumentation. For over 35 years, TMS has offered the most complete and technically advanced line of ophthalmic equipment in the marketplace today. TMS manages ophthalmic dealer sales, corporate sales, and the IMAGEnet Digital Imaging Division. TMS is a subsidiary of Topcon Corporation of Japan.
About Topcon Anka Systems, Inc.
Topcon Anka Systems is a wholly owned subsidiary of Topcon Medical Systems. ANKA's focus is on providing networking and software needed in managing, analyzing, and interpreting different types of digital images in clinics and hospitals. ANKA offers web-based software solutions with built-in workflow for the doctors that dramatically improve the efficiencies for both the doctors and their staff while saving money and reducing mistakes. EyeRoute currently connects to instruments from multiple vendors and is used by hundreds of retina, glaucoma, and general ophthalmologists. The result is an affordable system that meets the highest standards for reliability and ease of use.
Press Contacts
ZyDoc Medical Transcription
1455 Veterans Memorial Highway
Hauppauge, NY 11749
Sharon Dietz, VIce President Sales and Marketing
1-800-546-5633 ext 708
Topcon Medical Systems, Inc.
37 West Century Road
Paramus, NJ 07652
Don Winfield, Vice President Marketing
(201) 261-9450 • Fax: 201-634-1365
###