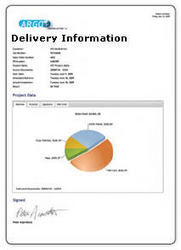 We're already seeing this system ensure our ability to meet time and budget on even the most complex projects
Chicago, IL (Vocus) October 20, 2009 –-
Complying with government regulations has now become a big part of every company's mission. As more and more laws are passed that impose requirements for the handling of electronic data, companies in regulated industries like healthcare and financial find compliance to be more time consuming and more expensive. And for firms that sell their products and services in other countries, the issue is further compounded by language translation.
To address this growing need at companies like Merck, Abbott Labs, GE Healthcare, and Takeda Pharmaceuticals, Argo Translation has introduced a new web-delivered solution based on advanced translation management technology from Across Systems combined with a customized Enterprise Resource Planning (ERP) system and an exclusive new process developed by Argo Translation. Argo's new Regulatory Compliance Platform provides a quality-assured, end-to-end translation supply chain management system that actively manages, monitors, and streamlines projects through each and every step in the translation and localization process.
Some of the benefits of the new solution include the ability to conduct in-country review in half the time, provide documented conformance to a company's SOP, and real-time monitoring of a project's status. "We're already seeing this system ensure our ability to meet time and budget on even the most complex projects," said Peter Argondizzo, president of Argo Translations.
About ARGO Translation
Having successfully executed projects requiring simultaneous translations in 46 different languages, ARGO Translation provides specialized and professional translation services for a multitude of domains ranging from legal and technical to marketing and financial and everything in between. Argo provides efficient, accurate translation and localization services focused on quality and clarity for a wide range of companies across North America.
Contact:
Katie Porter
Argo Translation
Tel: +1.847. 901.4070
Email: katie(at)argotrans.com
###