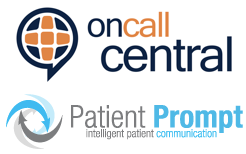 We are pleased to be able to partner with On Call Central who, like Patient Prompt, I would consider to be the market leader."
-Jeremy Greven, President & CEO, Prompt Alert, Inc.
Lexington, KY and Toronto, Ontario (PRWEB) March 05, 2012
On Call Central has announced a strategic partnership with Prompt Alert Inc. to provide high quality, innovative, web-based solutions to medical practice management problems in broader markets. The partnership will immediately expand the potential client base for both companies by opening reciprocal access to the other's existing customer base. Going forward, On Call Central and Prompt Alert intend to continue expanding their respective market shares by offering complementary "best in breed" software solutions.
On Call Central is an automated call management system that triages incoming patient and provider calls through customizable logic trees. The system rapidly connects screened calls with the appropriate clinician then securely records and archives the conversations for easy documentation. Prompt Alert's Patient Prompt™ system delivers a fully automated patient communication platform that integrates calls with the practice's existing management software.
Sidney VanNess, Ph.D., CEO of On Call Central, praises the Patient Prompt™ system, "The integration with practice management systems is something that is very unique. It just struck me as a product in that space that was doing things that other companies haven't even tried to do yet. The product actually learns and responds in reaction to patient feedback."
When asked about the new partnership, Prompt Alert CEO, Jeremy Greven states, "Patient Prompt helps practices realize an increase in both revenue and patient satisfaction by automating a client facing portion of their business. This partnership with On Call Central will provide a natural service extension to my clients, helping them to continue realizing the benefits of automated patient communications. We are pleased to be able to partner with On Call Central who, like Patient Prompt, I would consider to be the market leader."
Mr. Greven continues, "When you are making this kind of a partnership decision, you want to take the time to find the best and I think that is what we have done with On Call Central."
Both chief executives are eager to explore avenues for synergy and integration of both software systems.
About On Call Central
On Call Central provides a more efficient solution that replaces a medical provider's traditional medical answering service. On Call Central is a web-based call management system that tracks, routes and archives patient calls, provider responses and post-call patient directives. It uses the latest technology to eliminate communication breakdowns and improve patient care, while protecting providers from the risk associated with after-hours calls.
About Patient Prompt and Prompt Alert Inc.
Patient Prompt(TM) is a product of Prompt Alert Inc. a privately owned technology solution provider specializing in patient communication in the healthcare sector. Established in 2004, Prompt Alert Inc. introduced its highly successful patient communication tool, Patient Prompt(TM) to service enterprise level practices seeking a customized, flexible, and fully scalable automated patient communication tool. Since its launch, Patient Prompt(TM) has been the fastest growing patient communication tool in North America, servicing a wide variety of group practices and specialties such as, Cardiology, Gastroenterology, Endoscopy, Orthopedics, Nephrology, and Oncology