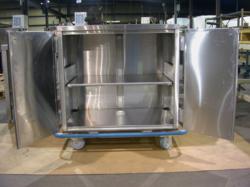 Jackson, MI (PRWEB) May 24, 2011
Midbrook, the Jackson, MI, based manufacturing and design firm, has brought over 35 years of stainless steel experience to the medical field. Midbrook Medical now manufactures custom stainless steel and antimicrobial copper carts, storage cabinets, workstations, and tables.
Midbrook has been designing and producing custom sheet metal products for over 35 years, however, due to the proximity to Detroit, much of their efforts have been concentrated in the automobile industry.
In the medical field, Midbrook sees an opportunity to utilize its decades of industrial experience in an area where options for custom fabrication are limited. As a result, Midbrook Medical has experienced early success. An examination of what Midbrook Medical brings to the medical field can help further explain the reasons for this success.
"First, our products are very robust," says Midbrook business development director Jamie Crowley. "We are used to the demands of an industrial environment, we don't know how to build them any other way. We feel that this consistent level of quality has been very appealing to our customers." It has also been appealing to distribution houses, several of which sell products manufactured by Midbrook Medical.
Customers also have the option to contact Midbrook Medical directly. This role as both manufacturer and seller of custom fabrications provides another benefit. "By contacting us directly, customers will be paying first level pricing that has not had to be increased to cover the expenses of a distributer or outside sales representative," says Crowley. "They are getting the same high quality products their neighbor health systems are getting, but at a drastically reduced price." By selling direct to the customer, Midbrook Medical is a position to provide more product at a lower price than what can be obtained from a distribution house.
The quality and convenience of Midbrook Medical has been an important part of their early success, and both of those attributes seem poised to improve even more as they become increasingly familiar with the needs of healthcare providers.
# # #