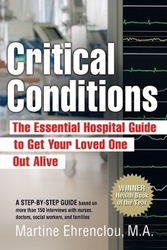 Given the frightening number of preventable hospital deaths caused by medical errors, you must be a hands-on advocate to oversee medical care for your hospitalized loved one
Santa Monica, CA (PRWEB) October 14, 2009
Readers, critics and book award panels agree - ''Critical Conditions: The Essential Hospital Guide to Getting Your Loved One Out Alive'' by Martine Ehrenclou is one of the best books of the year. A recent honor by the Written Arts Awards was the tenth award this year for Ehrenclou's indispensable book. As Ehrenclou explains, anyone in the hospital is at risk for medication errors, medical mistakes, hospital acquired infections, and other regrettable, preventable, so-called 'never events'.
"Given the frightening number of preventable hospital deaths caused by medical errors, you must be a hands-on advocate to oversee medical care for your hospitalized loved one," said Ehrenclou. "Hospital staffs are caring, skilled professionals, but they are overworked and often overwhelmed. It's essential to be vigilant and guard against problems for your loved one while they recover from illness."
''Critical Conditions'' amasses over 150 interviews with registered nurses, physicians, hospital staff and family members, and shows families how to prevent medical errors, medication mistakes, the spread of hospital-acquired infectious diseases, and more. Chapters are dedicated to detailing how precisely to interact with a patient's physicians and how to reach the doctor when it counts the most.
An author and patient advocate, Martine's articles on hospital patient safety have appeared in national magazines, newspapers and on websites. Her knowledge comes from hard-earned experience. She spent nearly three years in various hospitals attending to family members in distress. Ehrenclou witnessed an eye-opening number of medical errors as well as lost and confused families. ''Critical Conditions'' is the result of her profound desire to help.
Ehrenclou has been interviewed on numerous nationally syndicated radio shows and currently lectures others on ''How to Survive a Hospital Stay'' at universities, organizations and bookstores. She is a monthly contributor to ParentGiving.com. Martine received her master's degree with honors in psychology from Pepperdine University, Los Angeles.
So far, since its release, ''Critical Conditions'' has earned the following awards:

Winner of the Book of the Year 2009 (Bronze), ForeWord Magazine Book of the Year Awards.
Winner of the Best Health Book of 2009, Allbooks Review Editor's Choice Awards
Winner of How-To Book of the Year 2009, San Francisco Book Festival
Winner of the Best Health Book of 2008, The Pinnacle Book Achievement Awards
Winner of the Best Health Book of 2008, Books&Authors.net
Winner of the Written Art Awards, Fall 2009, Non-fiction/self help (second place)
Winner of the Best How-To Book of 2008, DIY Book Festival Awards
Finalist Health Book of the Year 2009, National Indie Excellence Awards
Finalist in 2009 Health/Wellness category of the Next Generation Indie Book Awards
Honorable Mention, Self-help Book of the Year, 2009, Reader Views Reviewers Choice Awards
Contact: Martine Ehrenclou
Martine(at)criticalconditions(dot)com
(310) 458-6047
http://www.criticalconditions.com
###