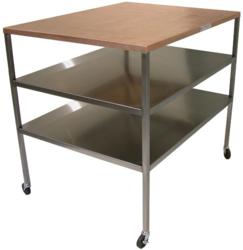 Jackson, MI (PRWEB) May 23, 2011
Midbrook Medical, the Jackson, MI, based manufacturer of cleaning and decontamination systems as well as custom fabricated stainless steel tables, carts, cabinets and workstations is seeing increased interest in their custom fabricated medical equipment constructed from EPA registered antimicrobial copper.
With over 35 years of experience in sheet metal fabricating, Midbrook is uniquely qualified to fabricate a wide range of different types of medical equipment, from carts and tables to storage cabinets. In addition to stainless steel, Midbrook Medical is EPA registered to work with antimicrobial copper alloys. These alloys, which contain at least 60% copper, are becoming increasingly common in the medical field due to their ability to kill bacteria.* Within 2 hours of exposure, antimicrobial copper alloys destroy greater than 99.9% of bacteria.*This makes it much more effective than other materials used for similar applications, such as silver coatings and stainless steel. It also remains effective after repeated wet and dry abrasion and after any natural tarnishing occurs.
Antimicrobial alloys are extremely versatile. Any product that Midbrook Medical can fabricate from stainless steel can also be constructed with a copper alloy material. Antimicrobial copper is also wear resistant and comparable to steel in terms of strength and durability.
The versatility and effectiveness of antimicrobial copper alloys has made them a valuable weapon in the fight against healthcare acquired infections (HAIs), which are responsible for more deaths in the United States every year than breast cancer, auto accidents and AIDS combined. Including antimicrobial copper in touch surfaces such as the tops of carts and tables, shelves, bedrails and handles can drastically reduce the amount of HAI causing bacteria* that patients are exposed to during their treatment. This has the potential to help hospitals save some of those 100,000 deaths per year, while also reducing the estimated $35-$45 billion in annual healthcare costs related to HAIs.
The inherently antimicrobial properties of copper make it an ideal supplement to existing cleaning and disinfection practices in hospitals. The use of copper makes it possible for touch surfaces to continuously kill bacteria* between cleanings and between uses. This prevents bacteria* from building up over time. It also makes it more difficult for bacteria* to build up in hard to clean areas such as scratches, as it would on materials like stainless steel.
Midbrook Medical expects to see interest in antimicrobial copper products continue to increase as more medical personnel discover how it can help them protect their patients from infection-causing bacteria.*
*Laboratory testing shows that, when cleaned regularly, Antimicrobial Copper kills greater than 99.9% of the following bacteria within 2 hours of exposure: MRSA, VRE, Staphylococcus aureus, Enterobacteraerogenes, Pseudomonas aeruginosa, and E. coli O157:H7. Antimicrobial Copper surfaces are a supplement to and not a substitute for standard infection control practices and have been shown to reduce microbial contamination, but do not necessarily prevent cross contamination; users must continue to follow all current infection control practices.
Midbrook is the minority owned, world leading provider of process specific, high volume aqueous part cleaning systems, custom medical fabrications and decontamination systems, sealed solvent cleaning systems, and water bottling equipment.
For more information about Midbrook Medical and its custom antimicrobial copper fabrications and decontamination systems, visit http://www.copperforhealthcare.com, http://www.midbrookmedical.com, or call 1-517-787-3481.
###