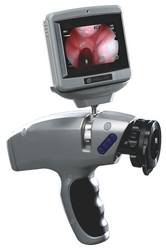 Personally, I have developed a new level of trust with my patients. New patients can instantly see their clinical findings: it provides more information in helping them make decisions about their own healthcare. Established patients know they can trust the information I relay to them from their own exam using the endogo®
Woodstock, Georgia (PRWEB) October 1, 2009
"The endogo® HD is a remarkable advance over the original endogo's breakthrough in portability. I'm really excited about its capabilities and the way it will enhance the surgeon's clinical practice. The endogo's® unparalleled integration of stored data with an easy to use on-line data management suite breaks the barrier in ease of use with no disruption in work-flow: bringing to bear the convenience, privacy, security, and any-where instant access of the world wide web. Another advance is our enhanced sharing capability with the endogo® HD. We offer a unique experience with a removable LCD touch screen. This first to market concept allows the surgeon to instantly share and review their exam findings with the patient in a calm unhurried setting (after the exam), they can demonstrate their findings to colleagues: locally or remotely.
"Personally, I have developed a new level of trust with my patients. New patients can instantly see their clinical findings: it provides more information in helping them make decisions about their own healthcare. Established patients know they can trust the information I relay to them from their own exam using the endogo®". -- Dr. Patrick Melder, Founder, CMO.
Envisionier's Chief Executive Officer, David Guy states: "Digital data changed radiology from dependence on light boxes to tele-radiology, expanding possible sites for remote consults and allowing physicians to collaborate. With Medicare providing actual incentive and penalties for Electronic Medical Records adoption the dozens of surgical specialties routinely using endoscopy must find a way to make large amounts of data available to an EMR. This shift is similar to smart phones changing tele-com and we are excited to be in the middle of it. Portability of information is the key to communication and we look forward to introducing the endogo® HD on October 4th, 2009 in San Diego at The American Academy of Otolaryngology."
ABOUT ENVISIONIER
Envisionier Medical Technologies, Inc. (http://www.envisionier.com), headquartered in Rockville Maryland, is first to market with palm-held endoscopic imaging technologies. More information about the endogo® system can be found at http://www.endogo.com.
LINKS
http://www.envisionier.com
# # #