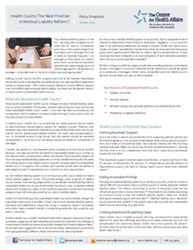 Cleveland, Ohio (PRWEB) November 12, 2013
The medical liability system in the U.S. has long been targeted as an area ripe for reform. What is fueling the recent push for medical liability reform? Current complaints with the system range from frustration with the length of time it takes to resolves disputes – an average of five years for claims with merit – to concerns that when plaintiffs win cases a large chunk of the damage award – 35 percent on average – is handed over in the form of attorney contingency fees.
Adding further fuel to the fire, roughly one-third of all medical malpractice claims are found to be baseless, yet defendants must pay significant legal costs simply to be absolved. With many experts calling for a more efficient system that more effectively enhances patient safety, one medical liability reform idea that has gained traction in recent years is specialized health courts. October's Policy Snapshot, Health Courts: The Next Frontier in Medical Liability Reform?, explores the concept of specialized health courts and the potential they hold for achieving meaning reform to the medical liability system in the U.S.
A full list of The Center's publications can be found on their website along with a wide range of resources covering a variety of health policy issues.
Click here to download The Center's October 2013 policy snapshot, Health Courts: The Next Frontier in Medical Liability Reform.
###
The Center for Health Affairs is the leading advocate for Northeast Ohio hospitals, serving those organizations and others through a variety of advocacy and business management services. The Center also works to inform the public about issues that affect the delivery of health care. Formed by a visionary group of hospital leaders 96 years ago, The Center continues to operate on the principle that by working together hospitals can ensure the availability and accessibility of health care services. For more on The Center, go to http://www.chanet.org.