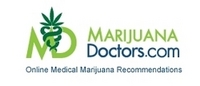 We are thrilled to have these great companies on board to benefit our Weed Team members and support our mission to help medical marijuana patients across the country
Los Angeles, CA (Vocus) September 20, 2010
The nation's leading network for marijuana doctors, MarijuanaDoctors.com, has teamed up with VripTech (Masters of the art and science of vapor) and CS Travel (the official travel agent of the High Times Cannabis Cup) to make the Marijuana Doctors Weed Team Contest sweeter than ever. VripTech is giving away two of its top-of-the-line VHW 007 Vaporizer kits—one to the person who accumulates the most points between now and October 8 and one to the contest's second place winner. And CS Travel is offering huge discounts on High Times Cannabis Cup travel packages for everyone: Weed Team members get $200 off per person, and anyone who mentions MarijuanaDoctors.com will get $100 off.
"We are thrilled to have these great companies on board to benefit our Weed Team members and support our mission to help medical marijuana patients across the country," said Jason Draizin, CEO of MarijuanaDoctors.com. "VripTech's products offer the best vapor quality in the world, and CS Travel has decades of experience offering hassle-free, one-of-a-kind destination travel packages such as the Cannabis Cup."
Through MarijuanaDoctors.com's Digital Weed Team Contest, people who are passionate about medical cannabis are able to help those in need get medical marijuana legally in each state, and earn points by spreading the word about MarijuanaDoctors.com. The member with the most points by November 5, 2010 will win a trip for two to the Cannabis Cup, which takes place in Amsterdam on November 21st - 25th. And now through this new partnership with VripTech, the second place winner will take home the VHW 007 Kit—VripTech's top-of-the-line vaporization system, valued at $500. Plus they are also giving one away to the Weed Team member who accumulates the most points between now and October 8.
"At VripTech, we create vaporization products that are just as enjoyable as smoking, but in a significantly more efficient and health-conscious way," said Mark McCoy, founder of VripTech. "We are stoked to partner with MarijuanaDoctors.com to bring this technology to their patients and help increase the awareness of vapor as a preferred delivery method for medical cannabis."
There are many contenders in the Weed Team Contest, but only three winners will win the Grand Prize Trip to the Cannabis Cup and the two Vrip Tech Vaporizer kits, respectively. However, everyone else can still win huge discounts on travel packages through CS Travel. CS Travel is the exclusive travel partner for the 2010 High Times Cannabis Cup. Anyone who books a Cannabis Cup Travel Package via CS Travel's toll free number (1-800-816-1846) and mentions MarijuanaDoctors.com will get $100 off per person. And Weed Team members who mention MarijuanaDoctors.com will get $200 off per person! Hurry, this deal ends October 15.
About VripTech
VripTech International was founded in Northern California in 1997 with the goal of sharing a "Superior Vaporization Technique TM" and helping to add medical legitimacy to an extremely worthwhile social and political Cause. With our patented "Vaporization Chamber Bowl" that adapts virtually any water pipe or bubbler into a superior vapor delivery device the era of ineffective and home-rigged "vaporizers" was ushered out and broad spectrum, aromatic vapor extraction with conditioned delivery (that "works!") was ushered in.
About CS Travel
CS Travel was founded in 1987 with the goal of providing quality travel packages to the greatest cities in Europe and the most exotic islands in the Caribbean. We understand that our clients have specific needs and that no two events are the same. Whether you are traveling for the High Times Cup, Concert Package Tours to Jamaica or any of our other featured events, our knowledgeable and friendly staff is there to help you build any trip to fit your needs.
About MarijuanaDoctors.com
MarijuanaDoctors.com was founded to act as the trusted gateway for patients searching for medical marijuana treatment in all legal medical marijuana states. At MarijuanaDoctors.com, patients can browse, rate and review medical marijuana doctors, learn how to obtain a medical marijuana card in their state, and read up on all the latest medical marijuana information and research.
Visit MarijuanaDoctors.com or call 1-866-996-9333 to learn more.
###