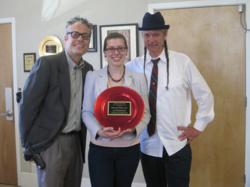 Oakland, CA (Vocus/PRWEB) May 07, 2011
Harborside Health Center, the nation's largest medical cannabis dispensary was honored by The Alameda County Community Food Bank this week as recipient of The Red Plate Award in the Small Business category. This award is given annually in recognition of the business making the largest contribution of food during the Christmas holiday food drive.
Harborside's patients, currently over 80,000 of them, donated over 5,300 pounds making this the largest contribution received. The award was presented by Food Drive Coordinator Nicole Johnston in a brief ceremony at the center's location at 1840 Embarcadero in Oakland, California. On hand to receive the award was Executive Director, Steve DeAngelo and General Manager, Andrew DeAngelo.
This marks yet another community involvement "First" for Harborside whose San Jose facility hosted a highly successful Blood Drive with the American Red Cross last year, gaining the distinction of being the first medical cannabis dispensary to participate in a Blood Drive. Harborside has always had a strong focus on giving back to the community.
Since its inception it has made charitable contributions of $272,296, provided $414,833 in holistic services such as acupuncture, Reiki, chiropractic care, etc., and given away over $996,311 in care packages to low income patients who have difficulty affording their medicine. In addition Harborside has donated to the Fox Theater renovation project and they are part of the Keep Oakland Beautiful "Adopt-a-Spot" program. In light of all it has done, it is no surprise that The New York Times has named this a "model dispensary."
The Alameda County Food Bank serves 49,000 people a week. Their mission is to alleviate hunger by providing nutritious food and nutrition education to people in need, educating the public and promoting public policies that address hunger and its root causes.
For more information about Harborside Health Center, contact Gaynell Rogers at (415) 298-1114.
About Harborside Health Center
Harborside Health Center is the nation's largest not-for-profit model medical cannabis dispensary in Oakland, California. Founded in 2005 by national cannabis leader Steve DeAngelo, Harborside has 70,000 registered patients. A landmark Bay Area medicinal cannabis facility, the center offers patients free holistic health services, lab tested medicine and education. 'Out of the shadows and in to the light' epitomizes DeAngelo's mission to enlighten the public on the many medicinal and therapeutic benefits of the plant and actively works to empower the country to change its image of it.
# # #