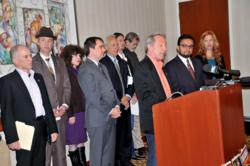 San Francisco, CA (PRWEB) October 25, 2011
In response to Obama's visit, Northern California leaders in the cannabis community united today with Bay Area elected officials, patients, and business owners prior to an Obama campaign fundraiser in San Francisco to discuss the ramifications of the administration's latest offensive against California's medical marijuana community and to call for federal policy reform. In a first-time press conference presenting a united front, leaders including California Assemblymember Tom Ammiano, San Francisco Supervisor David Campos, Executive Director of the National Cannabis Industry Association (NCIA) Aaron Smith, Executive Director Steve DeAngelo of Harborside Health Center, Dale Gieringer of California NORML, Dale Sky Jones of Oaksterdam University, Lynette Shaw of Marin Alliance, Mayor Larry Bragman of the Town of Fairfax, and representatives of the UFCW Local 5 were present.
"President Obama needs to immediately rein in the Justice Department for defying his administration's stated policy to respect state medical marijuana laws. Using federal resources to undermine California law and target lawful businesses is not only horrible public policy, it's just bad politics," said Aaron Smith, executive director for the National Cannabis Industry Association(NCIA)—a group representing the legitimate medical marijuana industry in Washington, DC. "It's simply baffling that the administration would seek to eliminate an industry that not only enjoys the support of the American public, but has created thousands of jobs and significant tax revenues for state and local governments—and in an election season, no less."
"With national polls showing support for marijuana at an all-time high, it defies common sense that the Department of Justice would return to the failed policies of the past. Instead of supporting state efforts to effectively regulate medical marijuana in accordance with Prop 215, the Obama administration seems committed to re-criminalizing it," said Assemblymember Tom Ammiano (D-San Francisco). "This destructive attack on medical marijuana patients is a waste of limited law enforcement resources and will cost the state millions in tax revenue and harm countless lives. President Obama needs to reverse this bad policy decision and respect California's right to provide medicine to its residents."
Steve DeAngelo of Oakland medical cannabis club Harborside Health Center commented, "Federal prosecutors are not trying to clean up the regulated medical cannabis industry, they are trying to destroy it. Their real target is not criminal gangs, but rather the systems of licensing and regulation implemented by dozens of communities state-wide. This will destroy tens of thousands of jobs, and hundreds of millions of tax dollars in local, state and federal tax revenue."
"The federal government's war on medical marijuana threatens to force patients to purchase their medicine from criminals, drug dealers, and violent gangs instead of from state-sanctioned, locally-regulated facilities that are safe and create decent jobs for Californians," said Matthew Witemyre, Special Projects Union Representative for UFCW Local 5—the labor union representing many of the state's medical cannabis workers. "If the federal government closes commercial dispensaries and collectives in California, thousands of hardworking and taxpaying citizens across the state will lose their jobs in the midst of the worst economic crisis since the Great Depression."
For more information about the press conference, please contact: Gaynell Rogers of Harborside at (415) 298-1114 or mcmcgaynell(at)gmail(dot)com, Linda Stokely of Harborside at (707) 217-1677 or mcmclinda(at)gmail(dot)com, or Melissa Milem of NCIA at (505) 803-1771 or melissa(at)thecannabisindustry(dot)org.
About the National Cannabis Industry Association (NCIA)
The National Cannabis Industry Association (NCIA) is the only trade association in the U.S. that works to advance the interests of cannabis-related businesses on the national level. NCIA promotes the growth of a responsible and legitimate cannabis industry and works for a favorable social, economic and legal environment for that industry in the United States.
For more information about NCIA, call (202) 379-4861 or visit http://thecannabisindustry.org/
About Harborside Health Center
Founded by national cannabis leader Steve DeAngelo in 2006, Harborside Health Center is the nation's largest not-for-profit model medical cannabis dispensary. The Oakland medicinal cannabis collective offers its 94,000 registered patients free holistic health services, lab tested medicine and education. Harborside and DeAngelo will be the subjects of a new Discovery Channel series entitled "Weed Wars," which will debut at 10PM on November 27th.
"Out of the shadows and into the light" epitomizes DeAngelo's mission to enlighten the public on the many medicinal and therapeutic benefits of the plant and actively works to empower the country to change its image of medical marijuana.
For more information on Harborside Health Center, contact Media Relations, found on the Harborside website contact page. Harborside Health Center will be featured on The Discovery Channel mini series "Weed Wars" this November.
###