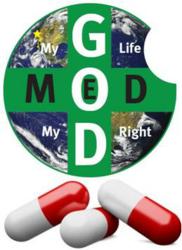 We have some amazing new products and services that we will be announcing at the expo.
San Francisco, CA (PRWEB) November 08, 2011
HempCon will once again take over the San Jose Convention Center on November 11-13. The medical marijuana mega show is one of the biggest events in the industry, bringing together dispensaries, industry leaders, advocates, equipment makers, growers, doctors, lawyers, and patients for an educational celebration of the wonderful world of medical marijuana. God Med Synergistic Herbal Corp (GMSHC) will have a booth in the patient-friendly 215 area, and will be introducing exciting new innovations designed to benefit patients. GMSHC will also be raffling off a premium McFinn's Original Triple-Filtered Water Pipe.
"Stop by and say hi if you're in the area," invites Steve Casebeer, founder of GMSHC. "We are devoted to finding the healthiest methods of medicating available, and we have some amazing new products and services that we will be announcing at the expo."
New patients will get a 25% discount on all GMSHC products ordered at the convention. All new patients who sign up for a pre-order of GMSHC merchandise at the expo will also receive a raffle ticket for a chance to win a McFinn's Original Triple-Filtered Water Pipe, created by Scientific Inhalations (which will be at the next booth over). McFinn's features a revolutionary filtering technology that uses three levels of filters to extract tars and impurities.
HempCon San Jose will feature hundreds of exhibits from dispensaries, collectives, delivery services, evaluation services, legal services, educational institutes, hydroponics experts, equipment and accessories makers, fertilizer/chemical vendors, clubs/associations, publications, and gifts/novelties/apparel makers.
Topics of educational seminars from industry insiders and advocates will include: how collectives work, how to build a grow room, how to grow hydroponics, chemical vs. organic growing, cannabis in California panel discussion, defending against pests, cloning, and growing 101, among others.
The event will also have live music and entertainment stages, food vendors, and much more.
HempCon will take place at the San Jose Convention Center, located at 435 South Market Street, San Jose, CA 95113. Hours are: Friday, November 11 from 3 to 9 PM; Saturday, November 12 from 11 AM to 9 PM; and Sunday, November 13 from 11 AM to 7 PM. Tickets can be purchased online for $20 until November 9th at http://hempconsanjose.eventbrite.com/, and are also available at the door. Attendees must be 18 or over.
About God Med Synergistic Herbal Corp (GMSHC)
God Med Synergistic Herbal Corp (GMSHC) is a California medical cannabis non-profit organization that specializes in the production of medical cannabis capsules. GMSHC capsules are made from nothing but Emerald Triangle cannabis buds, kif, and non-GMO soy lecithin emulsifier inside a veg capsule. These medical marijuana pills deliver the full spectrum of components of medical marijuana flowers, providing whole plant therapy in a convenient, discrete, easy-to-swallow capsule. Patients have used the medicine to naturally treat hundreds of ailments from headaches to depression to cancer without the sometimes debilitating side effects of prescription medications.
GMSHC capsules are available at a number of California medical marijuana dispensaries and online at GodMedsFor.Me. Dispensaries can place orders online at GodsMedicine.us. GMSHC also offers revolutionary health enhancement products at http://www.GodMedGoods.com
For more information about GMSHC, call or fax (877) 592-7727. For more information about medical marijuana pills or any of God Med Synergistic Herbal Corp's services, visit GodMed.com.
###