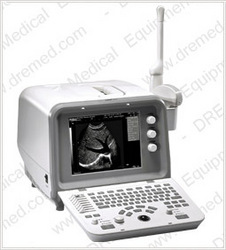 Louisville, KY (Vocus) April 1, 2010
DRE, Inc., a premier surgical and medical equipment supplier, recently unveiled the DRE FS-32P, a cost-effective digital ultrasonic diagnostic imaging system that comes standard with features typically exclusive to higher-end systems.
The DRE FS-32P features a variety of multi-frequency transducers and provides optimal images for use by obstetricians, gynecologists and urologists. The ultrasonic imaging system provides as many as 128 frames of built-in storage and a standard of two transducer connectors for greater flexibility.
An innovative system, the DRE FS-32P features dynamic frequency scan, real-time dynamic aperture and dynamic receiving apodization. Physicians can view images via a panaramic zoom function on the unit's 10" non-interlaced monitor.
The DRE FS-32P is available with an array of multi-frequency transducers, including convex arrays (C363-1 and C343-1), micro-convex arrays (C321), endovaginal (E613), linear array (L743) and endorectal (E743).
The DRE FS-32P also features:

Dynamic receiving/focusing
Digital beam forming
Multi-zone transmitting focusing
Image processing
Ergonomic backlit keyboard
Intelligent eight-segment TGC adjustment
256-frame cine loop
VGA output
DICOM 3.0 (optional)
Two USB ports
In addition to its new ultrasonic imaging system, DRE offers a wide selection of fetal monitors. The DRE Tempo II fetal monitor features highly sensitive tranducers that have nine-crystal ultrasound technology. The DRE Tempo II also provides automatic fetal movement detection and a high resolution printer that helps document fetal traces.
Physicians can also choose the DRE Kindred, a compact fetal monitor with dual fetal heart rate and TOCO monitoring. It features a 10.2" color display, an FM marker, automatic fetal movement detection, and 12 hours of data storage and review.
DRE also offers DRE E-ST Series Ultrasonic Pocket Dopplers with interchangeable waterproof probes. Each is available with a compact Li-ion battery charger, a large backlit LCD display, and accurate FHR detection with clear sound.
The DRE FS-32P Digital Ultrasonic Diagnostic Imaging System is available now from DRE. To learn more, physicians can visit http://www.dremed.com. Once there, they can browse DRE's complete selection of new and professionally refurbished medical equipment, which includes the Colin BP-S510 Patient Monitor, DRE Integra AV-S Anesthesia Machine and DRE Maxx Luxx 3 Surgery Lighting System.
About DRE, Inc.
DRE is a premier medical and operating room equipment supplier. DRE provides a combination of new and professionally refurbished or used medical equipment to industry professionals around the globe. For the third consecutive year, Business First of Louisville has named DRE one of the 50 fastest growing businesses in the Greater Louisville area.
# # #