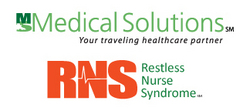 Having Dr. Turbatus attend the conference and interact with the attendees will create some curiosity and buzz making the Medical Solutions booth a can't miss destination at the event
Omaha, NE (PRWEB) May 1, 2008
Travel nursing and allied health staffing company Medical Solutions is taking their Restless Nurse Syndrome (RNS) viral marketing campaign to the people. The central character in the series of mockumentaries, Dr. James Turbatus, will make an appearance at the National Teaching Institute & Critical Care Exposition in Chicago, IL May 6th through May 8th.
Dr. Turbatus will be on-call at his 'Free Restless Nurse Syndrome Diagnosis' stand at the Medical Solutions booth. In addition to providing diagnoses, he'll give away free t-shirts, business cards, do-it-yourself diagnosis charts, DVD collections of his online case studies and samples of Lacidem, the 'wonder-drug' cure for RNS when used in conjunction with a 13-week travel nursing assignment with Medical Solutions. Accompanying the doctor at the booth will be Medical Solutions staff designated as Certified RNS Specialists.
Since its launch in late January, the campaign has utilized online video outlets and social communities in addition to RestlessNurseSyndrome.com, DrTurbatus.com, MedicalSolutions.com, TravelNursingBlogs.com and print ads in Healthcare Traveler magazine to promote the fictional epidemic. To date, the online videos are collectively approaching 5,000 views and have driven over 1,500 visits to RestlessNurseSyndrome.com. The doctor's profiles on social networks such as MySpace and Facebook are experiencing growing interest and buzz. The National Teaching Institute & Critical Care Exposition offers an opportunity for the campaign's central character to interact in person with its target audience and create further awareness and interest in the campaign.
"Having Dr. Turbatus attend the conference and interact with the attendees will create some curiosity and buzz making the Medical Solutions booth a can't miss destination at the event," stated Scott Anderson, President of Medical Solutions.
With the development of the doctor's persona to the extent that he has hobbies, interests and a favorite musician aids in his authenticity and allows the transition to an offline event to be a natural progression. It also takes the campaign to a level that most viral marketing campaigns can't reach.
Jeff Long, Marketing Manager at Medical Solutions describes the thought process behind taking the online viral marketing campaign offline, "Taking the Dr. Turbatus character to this event where he can interact with thousands of healthcare professionals, will accomplish our campaign goals by further pushing awareness about the Restless Nurse Syndrome campaign, the travel nurse industry and Medical Solutions. We also feel that his appearance will allow the doctor's character to demonstrate his eccentricities and concern for nursing professionals in a fun and humorous way."
"I'm extremely excited about the conference," enthused Jim Martin, a Medical Solutions Recruiter who portrays Dr. James Turbatus in the campaign. "Over the last year we have put in a lot of time into the RNS videos and our nurses seem to really like them. Medical Solutions has allowed us to be creative and have a lot of fun filming the videos. One thing is for certain, we haven't lost focus on what really matters to us, our nurses."
The Restless Nurse Syndrome campaign was developed by the Medical Solutions in-house Marketing Department who looked at the top reasons nurses become travel nurses. This led to the creation of the four strains of RNS: Locationitis, Nofriendleosis, Salarytosis and Jobsession. Locationitis is aimed at their desire to see and experience new locations. Nofriendleosis is directed at their craving to meet new people. Salarytosis is pointed towards their yearning to increase their pay. Jobsession targets their longing to experience new challenges in their career.
Dr. James Turbatus, the main character, guides the audience through a series of online case study videos that chronicle his discovery of RNS and its cure. He faces challenges throughout the series as others are skeptical of his findings and unorthodox research methods. Despite a nasty fall in icy conditions, getting lost in Omaha, dealing with a difficult investigative reporter and a host of unusual encounters, he continues to press on; driven by the memory of his "Nana" who suffered from the then undiagnosed Restless Nurse Syndrome.
About the National Teaching Institute & Critical Care Exposition
The National Teaching Institute & Critical Care Exposition is the American Association of Critical Care Nurses' premier clinical conference for acute and critical care nurses. The conference aims to provide cutting-edge education and information in a setting where nurses of similar disciplines can share their challenges and experiences.
About Medical Solutions, Inc.
Medical Solutions, Inc. was one of the first travel nurse and allied healthcare staffing companies to be certified by the Joint Commission. Its focus is on meeting the urgent and short-term staffing needs of its clients with highly skilled allied health professionals, nurses and technologists. A nationwide network of travelers allows Medical Solutions to help its client hospitals continue to provide excellent patient care amidst a nationwide nursing and allied health shortage. Medical Solutions provides travelers to nearly 900 client hospitals nationwide and is one of the fastest growing companies in the travel nursing and allied health industry. Visit MedicalSolutions.com to learn more.
###