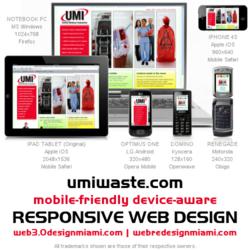 The goal of UMI's hands-on president Jose Yero was to make their W3C standards-compliant HTML5/CSS3 website more "responsive"...
Miami, FL (PRWEB) October 20, 2012
United Medical Industries - a Miami-based biomedical waste disposal service better known as "UMI" - recently completed a series of additions and upgrades to UmiWaste.com intended to increase their online visibility to medical waste generators across Florida by expanding their accessibility across the Mobile Web. The goal of UMI's hands-on president Jose Yero was to make their W3C standards-compliant HTML5/CSS3 website more "responsive", which in the latest web development lingo means optimizing the largest number of viewer experiences by flexibly tailoring the presentation of content to assure easy reading and simple navigation across the broadest range of desktop, notebook, tablet and mobile devices and browsers.
"There are two basic schools of thought when in comes to delivering RWD [ responsive web design ]," explains Bruce Arnold, the Miami web developer retained by Yero for the original design and all upgrades to the site. "The 'device-agnostic' approach ignores device detection and relies on client-side CSS media queries combined with so-called fluid grids [web page layouts] and flexible images. The 'device-aware' approach, on the other hand, relies on device detection via DDRs [device description repositories], PHP and jQuery [Javascript]. My take is to use media queries, fluid layouts and images sized as percentages when needed, but for truly responsive web design reliable device detection is necessary."
To accomplish that for UmiWaste.com, Arnold installed a comprehensive WURFL DDR to enable server-side device detection linked to a capabilities database and - unlike CSS media queries - allow a common base of content to be formatted for a specific device (e.g. Amazon Kindle or Apple iPhone), platform (e.g. Android or iOS) or browser (e.g. Opera Mobile or Safari) without placing any extra load on tablet or smartphone CPUs. For not-so-smart mobile phones - or roughly 75% of the Mobile Web marketplace [youtu.be/lx4NoT03Yi0] - this also allows URL redirection to a new bilingual (Spanish/English) W3C mobileOK "minipage" which even older cell phones with microbrowsers like Openwave or Obigo can handle.
UMI is not the only company taking the device-aware approach to responsive web design. According to a recent Smashing Magazine op-ed by Ronan Cremin and Luca Passani entitled "Server-Side Device Detection..." [bit.ly/UMkb1L]:
"While many designers embrace the flexible nature of the Web, with device detection you can fine-tune the experience to exactly match the requirements of the user and the device they are using. This is often the main argument for device detection – it enables you to deliver a small contained experience to feature phones, a rich JavaScript-enhanced solution to smartphones and a lean-back experience to TVs, all from the same URL... This is the reason why Facebook, Google, eBay, Yahoo, Netflix and many other major Internet brands use device detection [and] why Twitter recently abandoned its client-side rendering approach in favor of a server-side model."
About United Medical Industries | UMI | UmiWaste.com
Founded in 2002 by medical waste management industry pioneer Carlos Campos, "UMI Waste" (786-331-8661) is a full service biomedical waste disposal transporter headquartered in Miami that provides comprehensive biohazardous infectious waste collection, removal, transport and treatment services to healthcare facilities and other medical waste generators located across the state of Florida. Operating in compliance with all applicable federal, state and local laws and regulations, UMI assumes full responsibility for all medical waste the minute it leaves your facility, effectively putting an end to your medical waste management problems today and keeping them from resurfacing tomorrow. Se habla Espanol.
About Web3.0DesignMiami.com | WebReDesignMiami.com | PervasivePersuasion.com
Miami web designer and Mobile Web developer Bruce Arnold's WebReDesignMiami.com (305-597-8340) and Web3.0DesignMiami.com (786-838-0851) form a responsive web design and Semantic Web development boutique that defines success on the Web as high visibility plus broad accessibility. Their device-aware HTML5/CSS3 websites are handcoded PHP/MySQL with unobtrusive Javascript and jQuery, and pass seven tests of Web 3.0 Readiness as to content, format, behavior, accessibility, semantics, syndication and links. Maximum marketing ROI is assured by a PervasivePersuasion.com (786-326-8079) methodology that encompasses both search and social media marketing. Para ayuda en espanglish llame al 305-517-3851.