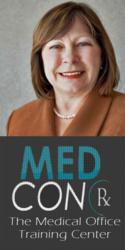 Even with a young family, I was able to complete this program on my own schedule and have a credential that helped me get a job when I really needed to get a job quickly. It was perfect for me.
- Teresa Broadhead
Heber City, Utah (PRWEB) February 29, 2012
Fast, convenient, inexpensive medical administrative assistant training for individuals seeking a medical administrative assistant job, but lack experience or a credential. Mary Lyman, founder and owner of MedConRx Training and MedConRx Consulting, is pleased to announce that her Medical Administrative Assistant Training certificate program is now available to individuals. "This training is particularly designed for those who need a credential for their resume quickly, conveniently, and inexpensively," says Ms Lyman. "The course can be completed in forty to sixty hours, is delivered entirely online, and costs a fraction of what tuition would be at a career college," continues Ms Lyman.
After the student completes the thirteen modules of medical office related topics ranging from medical office customer service to HIPAA rules and regulations, they received a certificate of completion from MedConRx Training and a program description document, both of which they can include with their resume when applying for a job as a medical office administrative assistant, or other related position. Mary explains that this is a relatively quick and low cost way of helping an individual prepare for jobs that exist in the economy right now and let them see if they would really like to make medical administration a career.
Training is based on the training Mary has developed and implemented in consulting engagements with medical facilities for many years. It was not produced in an academic environment. Rather, it is based on the everyday needs of medical practice managers as they deploy their staff members each day to operate a successful medical practice. Mary Lyman BSN, MBA, has over 20 years experience in the healthcare industry, including over 6 years as a medical practice management consultant.
Press Release by WAYNE BEESON.
###