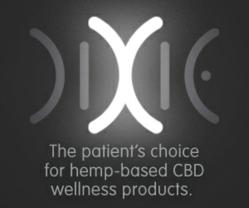 We think the all-natural CBD-based wellness products industry is on a fast, positive trajectory.
San Francisco, CA (PRWEB) October 20, 2012
Non-psychoactive hemp-based wellness products are moving up to the front stage these days in the world of medicinal cannabis and hemp. Leading the pack is the Dixie X brand. Dixie X Dew Drops Hemp Oil CBD tincture just won top honors in the CBD Edibles category at The Hemp Connoisseur Championship.
Dixie X CBD Hemp Oil Wellness Products are available in a 1-ounce, 100 CBD mg and in a 2-ounce, 500 CBD mg. Both products can be purchased online at http://www.DixieX.com or through medical marijuana resource United Patients Group (http://www.unitedpatientsgroup.com/medicalmarijuanainc), or at wellness centers in Arizona, California, Colorado, New Mexico, Oregon, and Washington.
According to Dixie X Science Director Tamar Wise, Dixie X Dew Drops CBD Hemp Oil-infused CBD tincture taken sublingually may relieve feelings of anxiety, inflammation, nausea, and spasms. "We create our unique hemp products using top-quality hemp oil we make by purifying whole-plant hemp extract using a proprietary process," Wise said.
Because hemp-based products do not have the psychoactive side effects of marijuana-based wellness products, they are considered a food supplement, and do not require a medical marijuana card to purchase, nor are they illegal to consume.
"There is plenty of scientific evidence of the medicinal benefits of cannabidiol, or CBD, and ongoing research is uncovering new wellness applications," said David Maddalena, CEO and editor–in-chief of The Hemp Connoisseur. "We think the all-natural CBD-based wellness products industry is on a fast, positive trajectory."
During the month of September, a panel of 135 judges from around Colorado evaluated and ranked 50 leading medical cannabis products in which Dixie X was the sole hemp-based entry. Products were classified in one of five cannabis categories, several including CBD-focused subcategories.
Dixie X Dew Drops were evaluated in the CBD Edibles category by 27 judges—18 patients and 9 "industry connoisseurs"—during the month of September. Each judge scored products on a scale from 1 to 10 based on:
1) Appearance and packaging
2) Taste
3) Activation time
4) Desired effect
David Maddalena, the architect of the testing process, also included a scientific component, a laboratory-verified accuracy check confirming each product's CBD potency claim. The averaged judges' scores were then combined with the averaged connoisseur scores and potency accuracy scores to arrive at the final, cumulative score.
"We are very excited to have won this award," said Dixie X Marketing Director Christie Lunsford. "It is another validation that our products are of the highest quality."
Dixie X products are not intended to diagnose, treat, cure, or prevent any disease. Statements made in this news release have not been evaluated by the Food and Drug Administration (FDA). Dixie X hemp-based CBD products are classified as food supplement by the FDA and are available for purchase online or over the counter in all 50 states without a medical marijuana ID card.
To learn more about Dixie X products or UnitedPatientsGroup.com, please call (415) 524-8099 or visit http://UnitedPatientsGroup.com/medicalmarijuanainc or http://www.dixiex.com. The best way to stay informed about developments is to "like" United Patients Group on Facebook and "follow" Untied Patients Group on Twitter.
About UnitedPatientsGroup.com
UnitedPatientsGroup.com is a discreet, safe, and professional online medical cannabis information resource for prospective and current patients, caregivers, and medicinal cannabis industry professionals.
While most online medical marijuana sites cater to patients already familiar with medical marijuana, the UnitedPatientsGroup.com website is a comprehensive and easy-to-use information source for people of all ages and experience levels, from novice medical cannabis users to experienced industry professionals. The site's News, Resource, and Blog pages introduce new patients to the ins and outs of medical marijuana healthcare, while helping experienced providers stay abreast of the latest developments in CBD therapies.
A free Five Star-rated UPG medical marijuana app is now available for free on the iTunes app store for iPhone 3GS, iPhone 4, iPhone 4S, iPod touch (3rd generation), iPod touch (4th generation) and any iPad running on iOS 4.3 or later.