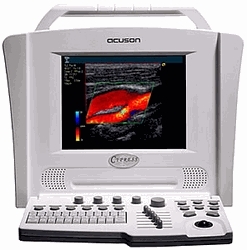 San Diego, CA (PRWEB) September 26, 2008
Medical Machines Online is happy to announce the release of a refurbished ultrasound machine, the Acuson Cypress Ultrasound System. This like-new system is one of many used pieces of discounted medical equipment available online, and it is a practical solution for clinicians at hospitals, clinics and physician offices during these tough economic times.
Portable ultrasound systems have been newly introduced to the medical imaging community, and this Acuson Cypress ultrasound system has been modified and upgraded so that it includes all the capabilities of a full size Acuson system. This ultrasound system is fast becoming the gold standard for portable medical ultrasound systems. This medical ultrasound system allows doctors and clinicians to extend the reach of echocardiography, because it is so lightweight and portable that it can be moved wherever it is needed. Whether it's in the echo lab or a patient's bedside, Emergency Room, Critical Care Unit or physician's office, this portable ultrasound is the best way to bring echo diagnostic power anywhere it's needed.
Even on the most technically difficult patient, this Acuson Cypress ultrasound system provides complete studies and clear images with its highly miniaturized, all digital, phased array echocardiography system. There is not room for compromise or repeat studies with today's medical equipment, and this system offers a full range of medical imaging capabilities to make sure the whole health picture is available to physicians. The Acuson Cypress comes with harmonic mode, high frame rate color flow mapping, Doppler, stress echo, digital image management and built-in DICOM connectivity.
This quality refurbished ultrasound system is one of many new and used medical equipment pieces on the Medical Machines Online website: medicalmachinesonline.com. Medical Machines Online is proud to offer this durable and fully tested Acuson Cypress Ultrasound System, and many other fantastic medical equipment pieces. As the demand for quality new and refurbished medical equipment rises, the quality and selection offered by medical equipment and EKG machine specialists should meet the demand with zeal!
About Medical Machines Online
Medical Machines is a hospital, physician's office and home medical equipment supplier and is the online shopping source for everything in new and used medical equipment. They offer a fantastic selection of all the best brand names in medical equipment, including Nihon Kohden, Burdick, Schiller, Welch Allyn, Cardioline, General Electric, Bionet, Dr. Lee, Fukuda Denshi, Brentwood / Midmark, Mortara, Philips, QRS and more. With these great names, we hope you can find the perfect new and refurbished EKG / ECG machines, patient monitors, dental equipment, defibrillators, bone densitometers, blood analyzers, pulse oximeters, ultrasound machines and stress test EKG's for your little corner of the medical community.
###