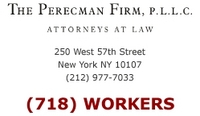 headaches, the shakes and fever.
New York, NY (PRWEB) June 10, 2009
This month a Bronx man who almost lost his life due to a misdiagnosis at Montefiore Medical Center's emergency room was awarded $5.45 million by a jury in a medical malpractice lawsuit the result of which was observed by New York medical malpractice attorneys across the state.
According to the New York Post, on May 1, 2002, Emanuel Badger visited Montefiore Medical Center's emergency room with complaints that he felt "deathly ill" with "headaches, the shakes and fever." Doctors told Mr. Badger that he had a strain of flu and should return home to recover. A few days later, his symptoms worsened and Mr. Badger returned to the hospital's emergency room. This time doctors performed a blood test and realized Mr. Badger had a serious staph infection that was affecting his heart. Two days later, doctors performed heart surgery to replace one of Mr. Badger's valves. Afterwards, Mr. Badger's doctor told him he "was 30 minutes from death."
"It is distressing that a man visiting an emergency room with such a severe assessment of his own health can be dismissed as casually as Mr. Badger was," says David Perecman, New York medical malpractice attorney.
Factors thought to have contributed to the misdiagnosis include time and past experience. Hospitals are frequently overcrowded and emergency room patients are usually looked at and diagnosed quickly. Hospital staff also see some patients who exaggerate or fabricate their symptoms. However, it is the staff's responsibility to hear each patient out and give them the time necessary. "What patients do expect, and what they should expect, is a doctor who will spend enough time with them to obtain an accurate diagnosis and that, it seems, is what Mr. Badger did not receive," says New York medical malpractice attorney, David Perecman.
In hindsight, during his first visit to the emergency room, doctors should have taken Mr. Badger's blood. Then doctors would have discovered his infection sooner and possibly avoided a complicated surgery, according to David Perecman.
Even the medical malpractice attorneys that help families pursue their legal claims and win the high compensation they deserve wonder how this happens. New York medical malpractice attorneys also know, a medical misdiagnosis could happen to anyone.
About David Perecman and The Perecman Firm, PLLC:
For the past 25 years, the New York medical malpractice, personal injury, auto accident, and construction accident attorneys at The Perecman Firm, PLLC have championed all types of cases for construction accidents. David Perecman, founder of the Firm, is the current Secretary of the New York State Trial Lawyers Association (NYSTLA) and a chair of its Labor Law Committee. Mr. Perecman's achievements have brought him recognition as an Honoree in the National Law Journal's Hall of Fame, in New York Magazine's "The Best Lawyers in America" and The New York Times Magazine "New York Super Lawyers, Metro Edition".
The Firm has recovered millions of dollars for its clients. Among the more recent victories, Mr. Perecman won a $15 million verdict* for a construction accident, a $5.35 million dollar verdict** for an automobile accident, and a $40 million dollar structured settlement for medical malpractice.
*later settled while on appeal for $7.940 million
** later settled for $3.5 million
*** case number for Emanuel Badger -013649/2003 - Bronx Civil Supreme
"Lawyer Advertising"
"Prior results do not guarantee a similar outcome."
###