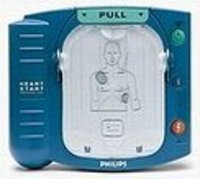 San Diego, CA (PRWEB) December 31, 2008
Medical Machines Online is thrilled to announce the release of a brand new Philips HeartStart AED Defibrillator. This system is one of many pieces of discounted and used medical equipment available on their website, and it is an affordable solution for clinicians at hospitals, clinics and medical offices. This new HeartStart AED includes proven Philips technologies for heart rhythm assessment (SMART Analysis) and defibrillation energy delivery (SMART Biphasic). As with all HeartStart defibrillators, this unit can be used to treat infants, children and adults.
This small and lightweight Philips HeartStart AED defibrillator weighs just 3.3 lbs. and is powered by a disposable battery, making it easy to carry wherever it is needed. The best part is the proven Philips technology that comes with this defibrillator unit, that includes clear, natural voice instructions from an OnSite Defibrillator that guides the first caregiver on the scene through each step of defibrillation and CPR. This unit also comes with integrated SMART Pads, which are placed on the patient's bare skin to transmit information to the defibrillator, which senses and adapts to what is needed in the specific situation. This defibrillator is just one example of the top of the line medical products you can find on Medical Machines Online website.
This Philips HeartStart AED defibrillator comes with a user manual, a quick use guide, one battery, one set of pads, and a five year warranty. Between uses, it will perform daily, weekly, and monthly self-tests of its battery, subsystems, and electrical components to help ensure continued reliability and readiness. This unit also comes equipped with a pads integrity test, which performs daily checks, ensuring that the cartridge is properly installed and that the defibrillator pads are in working order. As long as the green light is blinking, you can be certain that your Philips HeartStart AED defibrillator is ready to use. When you are in dire need or present at a medical emergency, this self-checking unit will give you the peace of mind you're seeking.
Medical Machines Online is proud to offer this brand new Philips HeartStart AED defibrillator, and many other fantastic medical equipment pieces. As the demand for quality new and refurbished medical machines rises, the quality and selection offered by medical equipment and EKG machines specialists should meet the demand with zeal!
About Medical Machines Online:
Medical Machines is a hospital, physician's office and home medical equipment supplier and is the online shopping source for everything in new and used medical equipment. They offer a fantastic selection of all the best brand names in medical equipment, including Nihon Kohden, Burdick, Schiller, Welch Allyn, Cardioline, General Electric, Bionet, Dr. Lee, Fukuda Denshi, Brentwood / Midmark, Mortara, Philips, QRS and more. With these great names, we hope you can find the perfect new and refurbished EKG / ECG machines, patient monitors, dental equipment, defibrillators, bone densitometers, blood analyzers, pulse oximeters, medical imaging equipment, and stress test EKGs for your little corner of the medical community.
###