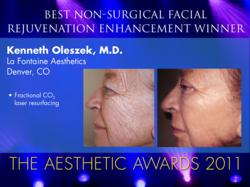 Giving someone confidence and self-esteem once again is just as important and gratifying to me as anything I do in medicine.
Denver, CO (PRWEB) June 16, 2011
La Fontaine Aesthetics, a Denver-based luxurious medical spa, owned and operated by Dr. Ken Oleszek, is nationally recognized at the well-known The Aesthetics Show in Las Vegas.
Dr. Ken Oleszek won "Best Non-Surgical Facial Rejuvenation Enhancement Award" at national awards show in earlier in June. Physicians from all over the world are invited to submit their work for both surgical and non-invasive rejuvenation work on face and body. Dr. Oleszek, entered pictures from one of his patients and was judged by his colleagues and peers, but a panel of celebrity judges, Dr. Ava Shamban and Dr. Andrew Orden, who presented the awards Saturday night at the big Gala, completed the final judging.
The Aesthetic show was created to provide aesthetic practitioners with unprecedented access to the industry's innovators and thought leaders. "The Aesthetic Awards were designed to honor excellence in aesthetic medicine, and all of our nominees and winners did truly wonderful work, " said Michael Moretti, Program Chairman of The Aesthetic Show and the Aesthetic Awards. "All the physicians who took home trophies tonight have set a standard that everyone in our field will now strive to not only meet, but exceed."
"With the incredible technology and products we have available today, I would argue that I can give patients a more natural look with lasers, Botox and fillers than the old, traditional method of going under the knife for face rejuvenation," says Dr. Ken Oleszek. "Giving someone confidence and self-esteem once again is just as important and gratifying to me as anything I do in medicine." Dr. Oleszek did a Fractional CO2 Laser Resurfacing treatment on his patient. The treatment took years off her face and appearance, and all with a non-invasive laser treatment.
"It was an honor to host such a tremendous event and to be part of the first-ever Aesthetic Awards, which have been long overdue in our industry, "said Dr. Andrew Ordon, star of CBS's The Doctors. " I look forward to what next year's nominees will bring to the table, contributing to the evolution of a fantastic ceremony that is truly on track towards becoming the Academy Awards of aesthetic medicine."
Additional Photos Available Upon Request
Find La Fontaine Aesthetics on Twitter and Facebook.
About La Fontaine Aesthetics
La Fontaine is home to an elite group of highly skilled and gifted practitioners. Led by Ken Oleszek, MD, the team at La Fontaine is committed to nurturing your body and spirit through effective, top-quality treatments, provided in a soothing, private atmosphere.
An unmatched level of service and professionalism coupled with complete focus on your individual goals and desires is our trademark.
About The Aesthetics Show: http://miinews.com
###