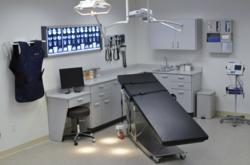 Hospitals are looking to reduce costs wherever they can; Tower Medical Systems and QuickMedical can help.
Issquah, WA (PRWEB) December 19, 2011
QuickMedical, a leader in the distribution of medical supplies and equipment announced the distribution of Tower Medical Systems exam tables through various Group Purchasing Organization (GOP) contracts.
"As a preferred distributor for Tower Medical and other major medical supply and equipment manufacturers, we are very pleased to be part of the GPO contracts," said Loren Timmons, Marketing Director at QuickMedical. "We have been a key distributor for Tower Medical Systems since 2005, and we are looking forward to building a new relationship with the GPO members and continuing our relationship with Tower Medical under these new agreements."
As an approved GPO vendor, Tower Medical will offer pre-negotiated group purchase savings to thousands of member hospitals and clinics. The GPO contracts are expected to lower overall costs of Tower Medical System Exam Tables to their customers.
"Savings, choice and integrity; three key words that describe the value Group Purchasing Organizations, Tower Medical Systems and QuickMedical bring to their customers and members," said Vivian Burmester, Vice-President of Tower Medical Systems. "Group Purchasing Organizations (GPO) allows members to choose from market leading and emerging suppliers to ensure the best price, technology and quality products. Rising healthcare costs mean that hospitals are looking to reduce costs wherever they can; Tower Medical Systems and QuickMedical® can help."
About QuickMedical:
With great pricing, same day shipping and a low price guarantee, QuickMedical® has the professional medical equipment used by healthcare professionals, industry and home. Look for a complete line of diagnostic equipment, exam tables, weighing, measuring devices, and medical basics such as stethoscopes, thermometers, and sphygmomanometers. QuickMedical® also offers a wide selection of professional medical supplies; everything from patient care, to blood testing, to exam room products. At QuickMedical you'll find affordable QM-Elite disposables and medical supplies for the clinic, hospital, industrial or home care environment.Click here to see all of our promotions.
###