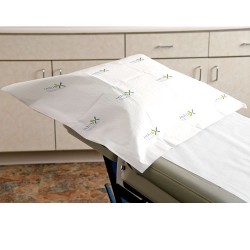 This technology has been proven to be save and effective in inhibiting the growth of microorganisms and providing advanced protection.
Issaquah, WA (PRWEB) October 27, 2011
QuickMedical and Graham Medical announced the launch of InhibX antimicrobial pillowcases, towels and table paper for hospitals and medical clinics.
According to Scott Hanna, CEO at QuickMedical, the new Graham antimicrobial products are treated with InhibX antimicrobial technology. This technology has been proven to be safe and effective in inhibiting the growth of microorganisms and providing advanced protection.
These products are designed to be protected throughout their life cycle. The same technology used worldwide to treat "sick building" problems in schools, hospitals, offices and homes is used with the InhibX™ product line. The technology is non-migrating and never allows for microbial adaptation. InhibX™ antimicrobial technology is EPA-registered and proven to be leach-free.
"Due to the current economic climate, healthcare facilities have had to scrutinize their spending in an effort to reduce cost and increase profit," said Loren Timmons, Director of Marketing at QuickMedical. "With Medicare no longer reimbursing healthcare facilities for the cost of treating certain preventable infections, one area that many institutions are focusing is infection prevention. Healthcare facilities are increasing their expenditures in time and money through comprehensive infection control policy's and procedures to protect patients and profits."
The InhibX™ antimicrobial product line includes table paper, pillowcases, and towels. The table paper is smooth, embossed and comes in 18 and 21 inches. The InhibX™ pillowcase is 21inches by 30 inches, and the InhibX® towel is a two-ply tissue/poly towel is 13.5 inches by 17 inches.
Graham Medical designs innovative, single-use medical products with two primary concerns in mind: patient comfort and performance for the medical professional.
About QuickMedical:
QuickMedical is a leading national distributor of Veterinary, Dental, Medical,Home, Industrial, Emergency, PT, Fitness products and devices. Located just east of Seattle, Washington with over 27,000 items to choose from, all with our lowest price guarantee, QuickMedical is truly your one stop online supply store. Sign-up here or below for our newsletter.
###