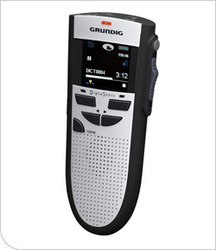 Hauppauge, New York (PRWEB) October 26, 2007
ZyDoc Medical Transcription announced today that it has formed a business alliance with Grundig Business Systems. ZyDoc will offer transcription services that are tightly integrated with Grundig Business Systems' digital handheld recorders. The ZyDoc system leverages the professional digital recorders and facilitates automated uploading of dictations. Doctors can dictate using the handheld professional digital recorders from anywhere with no change in work habits.
ZyDoc software optimizes downloading of the digital dictations with docking of the recorder and automatically transmits the records to the ZyDoc TrackDoc Internet site. These records are tracked, similar to UPS packages, and transcribed and returned within the required turnaround time by specialty-specific transcription teams assigned to each author to guarantee the highest accuracy available. After review, they are automatically downloaded and printed and faxed or mailed to referring physicians to complete the flow of information to referring physicians.
James M. Maisel, Chairman of ZyDoc Medical Transcription, says "ZyDoc is enthusiastic about working with Grundig Business Systems. The company has a long legacy of professional audio solutions and its digital recorders are professional devices designed for efficiency, speed and security. ZyDoc software extends the functionality of the recorders. Our software has won business productivity awards and and is very intuitive. All the labor and time involved is reduced to simply docking the recorder. No special computer skills are required for the entire life cycle of the documentation process."
ZyDoc has been working with physicians since 1993, allowing them to document medical encounters quickly and efficiently to obtain highly accurate specialized documentation with fast turnaround. These solutions can be implemented with no change in work habits, no risks, infrastructure costs, training, or IT experience, and are applicable for 100% of physicians.
Christopher Hanley, Sales Manager North America from Grundig Business Systems, adds "Grundig Business Systems is excited about partnering with ZyDoc. Our Digta x415 and DigtaSonic x420 mobile dictation recorders boast enhanced security and excellent sound quality, making them particularly suitable for transcription services. This integration with ZyDoc software will allow end users to experience seamless dictation and transcription processes."
Availability
Doctors can obtain information about the professional digital recorders at the Grundig Business Systems NA web site and enroll on the the ZyDoc web site website for a free trial of ZyDoc Transcription Services. Recorders can be purchased through an authorized network of professional dictation dealers who provide consultation to customize ZyDoc solutions to solve documentation challenges for multi-site group practices, ambulatory surgery centers (ASCs), and hospitals.
About ZyDoc Medical Transcription
Founded in 1993, ZyDoc is a full service, e-transcription company featuring HIPAA-compliant web-based records, e-signature, faxing, and legacy integration solutions. Physicians, transcription companies, and hospitals use these services to produce, organize, and distribute multi-specialty patient documentation. ZyDoc solves the PC literacy, data entry bottleneck, implementation, and cost issues that plague other clinical documentation and EMR companies. The company uses award-winning technology, workflow enhancements, and the Internet with ASP applications. In 2004, ZyDoc was ranked 3rd nationally in medical transcription by the Medical Records Institute and has also won awards from the medical informatics, speech recognition, and software industries. The technology platform is augmented by 24-hour U.S.-based support through the ZyDoc Operation Center. ZyDoc features unsurpassed highly accurate documents ensured by measurement, continuous quality improvement, and backed by a staff of U.S.-based level II and III transcription editors, proofreaders and a quality assurance team.
About Grundig Business Systems GmbH
With more than 4 million dictation systems sold and over 50 years of experience, Grundig Business Systems GmbH (GBS) is one of the leading manufacturers of professional dictation systems worldwide. GBS is the only high-end producer in the industry developing and manufacturing its products "made in Germany." The innovative and technically leading voice processing systems with sophisticated design are distributed through a global partner network. Every day, our dictation systems help lawyers, doctors, administrations, companies and many other professions to manage their workflow efficiently and cost-effectively. Grundig Business Systems has become independent from its former parent company since 2003. Find out more about GBS on the internet: the Grundig Business Systems NA web site
For more information please contact:
Sharon Dietz, Vice President Sales and Marketing
ZyDoc Medical Transcription
1455 Veterans Memorial Highway
Hauppauge, NY 11749
http://www.zydoc.com
1-800-LINK-MED
Chris Hanley
Grundig Business Systems, NA
phone: (312) 924-2878
###