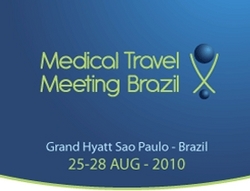 The timing is right to showcase our country to the world, and what better place than the financial and cultural hub of Latin America?
Chapel Hill, NC (Vocus) July 28, 2010
Josef Woodman, President and CEO of Healthy Travel Media, has been selected to be a featured presenter at the Medical Travel Meeting Brazil conference to be held in São Paulo, Brazil, 25 – 28 August, 2010 at the Grand Hyatt São Paulo. The conference focuses on Brazil's emerging role as a premier medical travel destination, and will showcase world-class hospitals and facilities in São Paulo and throughout the country, as well as providers, insurers, health benefit administrators, healthcare facilitators, travel agents, and government agencies from Brazil and around the world.
Woodman's session, entitled "Understanding the Medical Tourist," is slated for Wednesday, 25 August, 10:30 – 11:00 A.M. Woodman will discuss what medical tourists seek in a medical travel destination and offer insights into current trends impacting global healthcare with regard to Latin America.
"With 21 hospitals currently accredited by the Joint Commission International (JCI) and the Consortium for Brazilian Accreditation (CBA), coupled with its relatively short flying times from the US, Canada, EU, and neighboring countries, healthcare consumers now have even more medical choices closer to their homes," says Woodman. Known mostly for luxury cosmetic surgery, Brazil offers a wide array of affordable procedures. "Brazil's double-digit growth in the increasing number of medical tourists flocking there to seek discounts on procedures, highly qualified healthcare professionals, and state-of-the-art technology suggest this Latin American hot-spot no longer caters only to the rich and famous."
"We are very excited to be participating in the first Medical Travel Meeting Brazil in São Paulo," says Mariana Palha, CEO of Prime Medical Concierge. Palha, a consultant and researcher based in Brazil, will also be a presenter at the conference and expects that the event will encourage political and multi-sector discussions, new collaborations, and increased awareness of medical tourism in the region. "The timing is right to showcase our country to the world, and what better place than the financial and cultural hub of Latin America?"
About Medical Travel Meeting Brazil
In recent years, Brazil has become a promising new destination for those pursuing affordable, high-quality healthcare across borders. Aiming to encourage this new market, Medical Travel Meeting Brazil will host its first of many anticipated events to bring awareness to the numerous world-class medical facilities and specialty procedures available throughout the country. For additional information on Medical Travel Meeting Brazil or to register for this event, please visit the organization's website at http://www.medicaltravelmeetingbrazil.com.
For more information on Medical Travel Meeting Brazil, please contact:
Medical Travel Brazil
Ms. Vanessa Girardi
Tel: + 55 11 3528 4545
Email: info(at)medicaltravelmeetingbrazil(dot)com
Web: http://www.medicaltravelmeetingbrazil.com
About Healthy Travel Media
Healthy Travel Media, an independent imprint based in Chapel Hill, NC, publishes books, eBooks, video, online, mobile, and social networking information and applications on medical, health, and wellness travel. Its flagship international title, Patients Beyond Borders, now in its Second Edition, is the world's leading consumer reference guide for medical tourism and is filled with authoritative, accessible advice. Country-specific editions have been published for Singapore, Korea, Taiwan, Malaysia, Thailand, and Turkey. The Patients Beyond Borders series is available through booksellers everywhere and is distributed to the retail trade through Publisher's Group West.
About Josef Woodman
As president of Healthy Travel Media and author of Patients Beyond Borders, Josef Woodman has spent more than four years touring more than 140 medical facilities in 22 countries, researching contemporary medical tourism. As cofounder of MyDailyHealth and Ventana Communications, Woodman's pioneering background in health, wellness, and Web technology has allowed him to compile a wealth of information about global health travel, telemedicine, and new developments in consumer and institutional medical care. A noted consumer advocate for the globalization of healthcare, Woodman has lectured at Harvard Medical School, UCLA School of Public Health, and Duke University Fuqua School of Business, and has hosted more than a dozen seminars and workshops around the world on the topics of medical tourism and health travel.
For more information or media queries, please contact:
Judy Orchard, Communications Manager
Tel: +1 919 545.0668
Email: jorchard(at)patientsbeyondborders(dot)com
Web: http://www.patientsbeyondborders.com/
Note: Qualified members of the media are invited to request a review copy of the Patients Beyond Borders World Edition or any of the country specific titles available. Please contact jorchard(at)patientsbeyondborders(dot)com.
###