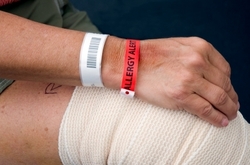 It seems like such a natural fit for us to offer these kinds of products to the healthcare community. After all, we have been making similar wristband products for the entertainment and amusements venues for a very long time
Shamokin, PA (Vocus) April 7, 2010
MedicalWristbands.com offers an easy, secure online purchasing experience for material management staff at hospitals and other health care facilities. Owned and operated by National Ticket Company, a family owned business since 1907 with clients in over 86 countries, MedicalWristands.com offers a variety of medical wristbands including Plastic Color Coded Medical Alert Wristbands, Tyvek® Color Coded Wristbands, Imprinter Wristbands and Insert Wristbands.
"It seems like such a natural fit for us to offer these kinds of products to the healthcare community. After all, we have been making similar wristband products for the entertainment and amusements venues for a very long time," says Jason Mauser, Vice President of Sales and Marketing for National Ticket Company.
Mauser adds, "We felt our expertise in wristband manufacturing, as well as our customer service, would enable us to deliver quality wristband products to the health care community. While the medical wristband market is very competitive, we feel our customer services will set up apart from our competition. Our customer service representatives each average over 16 years experience. And the average number of years of experience for our production department is over 18 years. Not many companies in our industry have that type of experience on their team. While price is important to our customers, at the end of the day, it is about delivering a great product with excellent customer service to make sure the customers get the product they need at a competitive price."
Nestled in the quaint countryside setting of the central Pennsylvania town of Shamokin, National Ticket Company has been making a name for itself since 1907. National Ticket Company is well known in the amusement and water park industries, theme parks, sporting industry, and entertainment industry for their large selection of wristbands and tickets. Now the company will be using its expertise to manufacture and sell medical wristbands too.
Earl Foura, President of National Ticket Company, said "We believe this is a great opportunity for us to serve hospitals and health care facilities given our extensive experience and expertise in wristband manufacturing." Foura adds, "We are working very hard to become an approved supplier of hospital patient identification wristbands with the large GPO's and health care distributors, but we also make it very easy for our customers to purchase directly from our MedicalWristbands.com site too."
In addition to the current offering medical wristbands on their site, the company plans to offer additional medical wristband products soon, like thermal snap wristbands as well as direct thermal wristbands with adhesive closures that work in certain Boca and Zebra printer models.
About MedicalWristbands.com:
MedicalWristbands.com is owned and operated by National Ticket Company, a family owned and operated business established in 1907, with clients in over 86 countries. National Ticket Company is one of the most respected names in printing and manufacturing wristbands. The company prides itself on the quality and accuracy of their printing and manufacturing processes, dedicated employees, superb customer service and a long list of satisfied customers in the amusement and entertainment industries. And soon they will be adding a long list of satisfied customers in the hospital and health care industries.
###