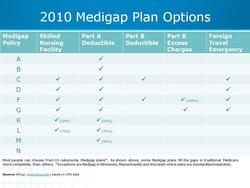 It's important to take the time to be sure you have the coverage you need now and as you start to evaluate options for 2011.
Belleville, IL (Vocus) July 14, 2010
July 14, 2010 – Seniors and people with disabilities who rely on Medigap to supplement their Medicare coverage may be confused by recent changes to Medigap options, according to Allsup, a nationwide provider of Social Security disability representation and Medicare plan selection services.
"Several plan changes took place in June, with more expected, and that can leave people feeling confused or concerned about their Medicare and supplemental coverage," said Paul Gada, personal finance director for Allsup. He directs Allsup Medicare Advisor®, a Medicare plan selection service for people with disabilities and individuals over 65. "It's important to take the time to be sure you have the coverage you need now and as you start to evaluate options for 2011."
Beginning June 1, all Medigap plans changed with regard to their core offerings. The primary reason is the expansion of Medicare Part B, which covers outpatient services such as doctor visits. These changes are a result of the federal healthcare legislation recently passed.
In addition, four Medigap plans previously offered were eliminated and two new Medigap plans were added. Medigap plans are offered by private insurance companies to help cover the gap in Medicare coverage for things such as co-payments or coinsurance and deductibles.
"Medicare Part B will soon cover more services, particularly preventive services, which had previously been offered through Medigap plans. These changes help eliminate the duplication," Gada explained. "Other Medigap plans were offering prescription drug coverage, which can be obtained through a Part D prescription drug plan."
How are Medigap plans changing?
All Medigap plans still are required to supplement Medicare Part A hospital and Part B coinsurance costs. However, because Medicare Part B will cover Medicare-approved preventive services, Medigap policies no longer cover these same services nor do they cover at-home recovery. But Medigap plans have added hospice care.
The discontinued Medigap plans – E, H, I and J – duplicated other plan offerings or prescription drug coverage available under Medicare Part D. The two new Medigap plans – M and N – are high-deductible Medigap plans offering lower premiums but higher out-of-pocket costs.
"These high-deductible plans may work best for people who want supplemental coverage but don't want to pay for one of the more expensive plans," said Gada.
What do Medigap changes mean for Medicare beneficiaries?
Companies offering Medigap plans can no longer offer new Medigap E, H, I or J policies. Individuals who have those plans can continue to use them for as long as they pay premiums.
Companies offering discontinued plans may offer existing policyholders an opportunity to switch to one of the other Medigap plan options without medical underwriting, though they are not required to do so.
Unlike Medicare A and B or Medicare Advantage plans, Medigap plans generally are not required to accept an applicant. Exceptions include when the person has just become eligible for Medicare and is age 65 or is within six months of enrolling in Medicare Part B and is losing insurance through a former employer. In most other instances, Medigap providers can use medical underwriting to deny coverage or charge a higher premium based on a person's age or health condition, such as a pre-existing condition.
"For people who can afford supplemental coverage and have high medical expenses, Medigap plans combined with Medicare Part D may offer valuable extra coverage," said Gada. "Ultimately, whether or not to get a Medigap plan with Medicare Part D, or to choose a Medicare Advantage plan, depends upon an individual's circumstances."
What options are there for new enrollees or those changing Medigap plans?
With the elimination of four and addition of two Medigap plans, most people can choose from 10 nationwide Medigap plans. Note: The exceptions are Medigap in Minnesota, Massachusetts and Wisconsin where plans are standardized separately.
As the chart shows, some Medigap plans fill the gaps in traditional Medicare more completely than others
As part of the Allsup Medicare Advisor plan selection service, Allsup Medicare specialists work with customers to identify the most effective Medicare coverage to meet their needs, including evaluating Medigap, Medicare, Medicare Advantage and prescription drug coverage options.
For questions about Medicare, please call and speak to an Allsup Medicare Advisor specialist at (888) 271-1173.
About Allsup
Allsup is a nationwide provider of Social Security disability, Medicare and Medicare Secondary Payer compliance services for individuals, employers and insurance carriers. Founded in 1984, Allsup employs nearly 700 professionals who deliver specialized services supporting people with disabilities and seniors so they may lead lives that are as financially secure and as healthy as possible. The company is based in Belleville, Ill., near St. Louis. For more information, visit http://www.Allsup.com.
The information provided is not intended as a substitute for legal or other professional services. Legal or other expert assistance should be sought before making any decision that may affect your situation.
# # #