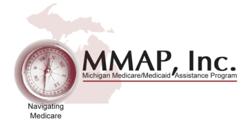 With 11,000 baby boomers a day enrolling in Medicare, volunteers are needed more than ever.
Lansing, MI (PRWEB) April 23, 2013
During National Volunteer Week, the Michigan Medicare/Medicaid Assistance Program (MMAP) is celebrating those who give the greatest gift of all – themselves. MMAP is searching for volunteers to join its ranks in order to serve Michigan's older adults and individuals with disabilities.
MMAP volunteers serve Michigan's communities by counseling people with Medicare, connecting with seniors who have limited incomes to help them save money on health care costs, and educating the community about health insurance issues.
Jo Murphy, executive director of MMAP, said, "With 11,000 baby boomers a day enrolling in Medicare, volunteers are needed more than ever." Medicare and health benefits counseling are challenging and ever changing. MMAP trains its volunteers to understand these programs, to solve problems and to empower the clients they are serving. MMAP is committed to providing a rewarding volunteer experience and is supported by local, regional and state program leadership.
MMAP is currently seeking volunteers who have computer skills, are internet savvy, and who have a desire to help others understand their health benefits. Volunteer opportunities available include: counselor, outreach assistant and administrative assistant.
If you love helping others, educating and problem solving, and being part of a team committed to serving the community, contact MMAP at 1-800-803-7174 or visit the MMAP website for more information.
About Michigan Medicare/Medicaid Assistance Program (MMAP)
MMAP (pronounced "map") provides free, unbiased counseling services and public education for Michigan's Medicare/Medicaid beneficiaries and their families, so that they can make informed health benefit decision. This may include information about reporting Medicare/Medicaid fraud and abuse. Since 1984, MMAP has provided education and counseling assistance to Michigan's Medicare and Medicaid beneficiaries and their families or representatives. Nationally, MMAP's program is called the State Health Assistance Program (SHIP), and is not affiliated with the insurance industry. Their main objective is a free health-benefit counseling service to help senior citizens find their way through the health benefits maze.
MMAP is funded by a grant from the Michigan Office of Services to the Aging through funding received from the Centers for Medicare and Medicaid Services, the Medicare agency, and a grant from the Administration for Community Living/Administration on Aging.