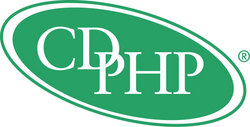 America's Best Health Insurance Plans 2008-09.
Albany, NY (Vocus) October 15, 2009
CDPHP announced the launch of its individual Medicare Choices preferred provider organization (PPO) plans in Albany, Essex, Rensselaer, Saratoga, Schenectady, Schoharie, Warren, and Washington counties, effective January 1, 2010. With the addition of the new Capital Region counties, CDPHP Medicare Choices individual PPO plans now serve Medicare-eligibles in 23 counties, while its group PPO plans are offered in 24 New York counties.
"Our CDPHP PPO plans give the growing Medicare population more choice and allow members more flexibility by providing both in- and out-of-network benefits," said John D. Bennett, MD, president and CEO, CDPHP. "We are excited to bring our new and existing Medicare plans to markets already familiar with our reputation for outstanding quality and customer service."
CDPHP Medicare Choices PPO Plans
CDPHP Medicare Choices PPO plans offer a full range of medical and Part D prescription options, including plans with generic drug coverage through the coverage gap. Routine dental, eye, and hearing services are also included in these plans, and members are allowed to receive care from an in-network or out-of-network doctor or facility.
CDPHP Medicare Choices PPO plans are tailored to meet a variety of needs, with premiums beginning as low as $28 per month (for the Core PPO plan without Part D). Members can choose from Core, Classic, or Prime options, both with or without prescription drug coverage, and all plans include Health Coach ConnectionSM and CDPHP Senior FitSM services.
Health Coach Connection provides personal health coaches and medical experts to assist members with a variety of health concerns and can be accessed 24/7 via a toll-free number. CDPHP Senior Fit, unlike fitness offerings from other Medicare Advantage plans in the region, offers access to fitness centers and fitness experts from such renowned exercise experts as SilverSneakers®, the Capital District YMCA, and Curves®. These services are available to CDPHP Medicare Choices members at participating locations at no additional cost.
Award-Winning Medicare HMO
CDPHP Medicare Choices continues to offer its award-winning individual and group HMO plans in the Capital Region and throughout New York state. In 2010, the individual HMO will be available in Albany, Dutchess, Montgomery, Rensselaer, Saratoga, Schenectady, Schoharie, and Ulster counties, while the group HMO will be available in 24 counties throughout the state.
The CDPHP Medicare Choices HMO plan options include Choice and Value plans with or without prescription drug benefits, with premiums beginning as low as $0 per month (for the Value HMO plan without Part D). The HMO plans are also backed by local customer service and include access to Health Coach Connection and CDPHP Senior Fit.
Coverage Through the Donut Hole
All Medicare Advantage Prescription Drug (Part D) plans are designed by the Centers for Medicare & Medicaid Services (CMS) to include a feature known as the coverage gap or "donut hole." CDPHP Medicare Choices provides coverage for generic prescription drugs in the coverage gap for select plans.
Recognized for Excellence
In 2009, CDPHP Medicare Choices was awarded Excellent Accreditation from the National Committee for Quality Assurance (NCQA) for the third time and obtained full deeming NCQA status for its Medicare HMO for the second time. CDPHP Medicare Choices HMO is also one of the highest-rated plans in the nation.*
Underscoring its commitment to the health and wellness of its Medicare members, CDPHP was recently named the best disease management program in upstate New York for the fourth consecutive year by Health Industries Research Companies (HIRC). With a strong focus on preventive care, CDPHP Medicare plans provide no-cost access to services such as annual gynecological/well-women exams, mammograms, cervical cytology screenings, prostate cancer screenings, and essential adult immunizations.
To learn more about the various plans available, contact CDPHP Medicare Choices at (518) 641-3400 or (toll-free) 1-888-519-4455. For the hearing impaired, call TTY/TDD (518) 641-4000 or 1-877-261-1164. Medicare-eligibles can also visit CDPHP Medicare Choices plans online at http://www.cdphp.com. Enrollment in the CDPHP Medicare Choices plans begins on November 15, 2009 and extends through December 31, 2009, for coverage effective January 1, 2010.
About CDPHP®
Celebrating its 25th anniversary in 2009 as a physician-founded and guided health plan, CDPHP® and its affiliates currently serve members in 29 counties throughout New York state and seven counties in Vermont. The affiliated companies of CDPHP include a family of products: Capital District Physicians' Health Plan, Inc.--HMO, Healthy New York, Medicare Choices (HMO), Medicaid, Child Health Plus, and Family Health Plus; CDPHP Universal Benefits,® Inc. --PPO, High Deductible PPO, EPO, and Medicare Choices (PPO); and Capital District Physicians' Healthcare Network, Inc. --self-insured plans. Visit CDPHP at http://www.cdphp.com.
*The CDPHP Medicare Advantage program, Medicare Choices, has been ranked ninth in the country by U.S. News & World Report/ NCQA "America's Best Health Insurance Plans 2008-09."†
†America's Best Health Insurance Plans is a registered trademark of U.S. News & World Report.
Contact:
Julie K. Tracy
(518) 641-5126
# # #