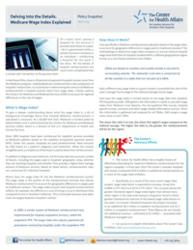 Cleveland (PRWEB) April 30, 2013
In Northeast Ohio, close to 40 percent of payments hospitals receive come from the Medicare program, making Medicare reimbursement a key component of hospitals' bottom lines. A crucial factor in determining the amount of Medicare reimbursement a hospital receives stems from wage index, a factor used by the Centers for Medicare and Medicaid Services (CMS) to account for regional differences in the cost of wages.
April's policy snapshot, Delving Into the Details: Medicare Wage Index Explained, examines how Medicare wage index is calculated, why there are so many different exceptions and reclassifications, and why hospitals and The Center for Health Affairs pay such close attention to this portion of the Medicare reimbursement formula.
A full list of The Center's publications can be found on their website along with a wide range of resources covering a variety of healthcare topics.
###
The Center for Health Affairs is the leading advocate for Northeast Ohio hospitals, serving those organizations and others through a variety of advocacy and business management services. The Center also works to inform the public about issues that affect the delivery of health care. Formed by a visionary group of hospital leaders 96 years ago, The Center continues to operate on the principle that by working together hospitals can ensure the availability and accessibility of health care services.