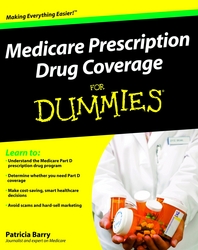 more than a publishing phenomenon, but a sign of the times
Hoboken, NJ (PRWEB) October 6, 2008
As usual, Medicare's private prescription drug plans will change their benefits and costs for 2009. Once again, millions of Medicare beneficiaries will face the annual dilemma of deciding to stay with the plan they've got or switch to another when open enrollment begins on November 15. How will they find the best deal? This year, Medicare Prescription Drug Coverage for Dummies® (Wiley, October 2008, $19.99) comes to the rescue by guiding beneficiaries step-by-step through the often baffling maze of the Part D prescription drug program.
The first comprehensive consumer reference on Part D, this clear-cut guide explains the ins and outs of Medicare drug coverage in plain English and an easy-to-read format. It helps readers navigate the system so they can make decisions more easily and to their best advantage--whether they're already enrolled in the program, confronting Part D for the first time, or need to know how it affects their other drug coverage. Readers who act on tips from the book (especially the detailed instructions for comparing drug plans properly) can save themselves a lot of money.
In Medicare Prescription Drug Coverage For Dummies, Patricia Barry, a senior editor at the AARP Bulletin and an expert on Medicare Part D, explains to readers how to:

Choose a drug plan that's right for their health and pocketbooks
Deal with their plan's coverage restrictions on some drugs
Avoid or minimize the impact of the doughnut hole
Lower out-of-pocket expenses
Sidestep pitfalls and troubleshoot problems
Avoid scams and hard-sell marketing tactics
The book also helps Medicare beneficiaries save money and hassle in a variety of circumstances--having a limited income, living in a nursing home, using multiple meds or a few very expensive ones, and many more. It is a valuable resource not only for beneficiaries, but also for family members and consumer advisers who may be helping them sort through their Part D options.
Like all For Dummies® titles, the book concludes with "The Part of Tens." This section offers ten ways baby boomers can help loved ones cope with Part D; and ten possible changes to Part D (simplifying plan choices, allowing Medicare to negotiate drug prices, among others) that have been proposed. The handy "Cheat Sheet" at the front of the book lists quick facts about Part D, tips on finding the best deal among a multitude of plan options, and key sources for help.
About the Author:
Patricia Barry is a senior editor at the AARP Bulletin and a recognized expert on the Medicare Part D prescription drug program. She has written extensively for consumers on Part D, as well as thousands of articles on other topics and two former guidebooks relating to healthcare and social policy.
Medicare Prescription Drug Coverage For Dummies®
By Patricia Barry
ISBN: 978-0-470-27676-1 / $19.99 U.S. / October 2008
For more plain-English information on health care, check out:
Eldercare For Dummies® ISBN: 978-0-7645-2469-1
Healthy Aging For Dummies® ISBN: 978-0-470-14975-1
Insurance For Dummies® ISBN: 978-0-7645-5294-6
Visit http://www.dummies.com to see all For Dummies titles!
About For Dummies®
With near universal name recognition, more than 200 million copies printed, and over 1000 topics, For Dummies is the world's bestselling reference series. With loyal customers around the globe, For Dummies enriches people's lives by making knowledge accessible in a fun and easy way. Described by the New York Times as "more than a publishing phenomenon, but a sign of the times," For Dummies span every section of the bookstore, covering everything from health to history, music to math, sports to self-help, technology to travel, and more. The For Dummies brand has expanded into new products and categories with an extensive licensed product line, including fitness and hobby DVDs, grilling kits, business software, cleaning products, automotive kits, craft kits, and apparel. For more information, visit Dummies.com. For Dummies is a branded imprint of Wiley.
###