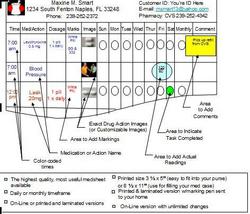 Walled Lake, MI (PRWEB) September 1, 2008
MyOwnMedSheet.com provides its clients to better manage their daily health by providing tools to organize medical information. The format used for displaying information is easily understandable, easily transferable and highly portable. Anyone interested in better managing medications and ensuring vital information gets to a medical team in an emergency, they will want to check out MyOwnMedSheet.com.
The medication sheet provides a tailored form to seniors and caregivers who wish to ease the burden of planning and tracking medications and health status. Available as a laminated sheet mailed to their home with an erasable marker, or as an On-Line version with unlimited updates, MyOwnMedSheet is a valuable tool allowing a client to manage their medications and medical actions.
A perfect complement to the med sheet, MyOwnMedSheet.com now offers MyOwnMedCard. MyOwnMedCard is a client's own unique book of knowledge containing an immense amount of critical information. The size of a credit card, this emergency medical card contains pertinent emergency medical information. Ordering the on-line version of MyOwnMedCard also includes a Personal History Record (PHR). This unbeatable combination provides the user with the capability to frequently update and store present and past critical information. Furthermore, with the on-line version, information can be accessed 24 hours a day, 7 days a week by emergency personnel through our website, MyOwnMedSheet.com by inputting the customer identification number.
What's unique about the PHR in MyOwnMedSheet?
The website takes the client through a series of questions which include:

Important events, dates and hereditary conditions in the family
Recent physical examination results
Opinions of specialists
Important test results
Eye and dental records
Correspondence with doctors
Permission forms for release of information, operations and
other medical procedures

MyOwnMedChart rounds out the series of MyOwnMedSheet.com products. MyOwnMedChart offers the ability to chart information over time, any information. For instance, if a client would like to track one of the many pre-packaged metrics; this tool allows a client to create a time dependent chart like blood sugar for example. Picking one of the pre-packaged metrics even displays the 96% levels of the normal population for that metric. The site also has the flexibility to chart anything anyone is interested in tracking, just input the chart metrics and a graph will be constructed automatically.
MyOwnMedSheet.com makes it simple to organize medications, keep track of medical history, create a personal med card, and even graph one's health metrics. MyOwnMedSheet.com is ideal for caregivers to seniors or anybody that needs a little help with their daily Personal History Records, PHR.
About DJK Systems LLC:
DJK Systems LLC, through MyOwnMedSheet.com offers customized medical charting solutions to individuals and small business care givers. MyOwnMedSheet.com is dedicated to those people wanting to take charge of their medical information. By arming clients, along with emergency personnel, with critical information such custom med sheets, emergency medical cards, personal history records, and health metric charting when ever it's needed, 24/7.
For additional information on the news that is the subject of this release or other products offered by DJK Systems LLC, contact Kevin DeWeerdt or visit MyOwnMedSheet.com
Contact:
Kevin DeWeerdt, President
DJK Systems LLC
248-787-4721
MyOwnMedSheet.com
###