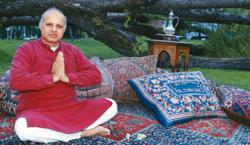 Medellin, Colombia (PRWEB) June 05, 2013
La Escuela de Ayurveda de California has recently announced that Dr. Akhilesh Sharma will be presenting an advanced studies workshop in Bogotá, Colombia in June 15th, 2013. During the program, Dr. Sharma will share about the development of Ayurveda in India and Latin America, share stories about clinical management of disease through Ayurvedic medicine, and share a variety of herbal remedies that could be prepared at home. Dr Akhilesh Sharma will be offering consultations until the end of the year.
The program is open to ayurvedic students who have completed at least a 50-hour theory program in Ayurvedic medicine (medicina ayurveda), including those who are in process of completing the Ayurvedic Health Educator program or an introductory Ayurveda course offered by the Ayurveda school (curso Ayurveda).
Ayurveda is the oldest health care system in the world. Because of its inherent vitality, Ayurveda has stood the test of time. The safety and efficacy of Ayurveda and its universal application of basic principles has never been in doubt at any point of time. Ayurveda has all authentic merits to be considered as a prime health care system of the world, when viewed from a holistic perspective. That is what makes Ayurveda so appealing, as Dr. Akhilesh stated.
The prime advantage of Ayurveda is that it brings about healing with easy lifestyle and dietary changes and some yogic exercises and breathing techniques. The herbal formulations used in Ayurveda are cost effective, safe and efficacious. Chronic auto-immune disorders and lifestyle diseases can be easily dealt with the help of Ayurveda.
Dr. Akhilesh Sharma, B.A.M.S., N.D., Ph.D. is in the board of advisor of Escuela de Ayurveda de California. He is an Ayurvedic physician at his clinic in New Delhi with his wife, Dr. Minakshi Sharma, a specialist in Ayurvedic Obstetrics and Gynecology. Dr. Sharma serves as Chief Physician and Director of Research and Development for Multani Pharmaceuticals, manufacturer of over 400 Ayurvedic medicines and herbal products. He is Ayurvedic Advisor to the Minister of Health in New Delhi and has received the Dhanvantari Award and the Chikitsa Shiromani Award for his contributions to the field of Ayurveda.
The general public can greatly benefit from Yoga and Ayurveda. By using herbal formulations for stress management and using nervine tonics they will have more clarity during the thought process, self-confidence and positivity. Ayurveda broadens vision and improves memory. By using various techniques of Yoga like pranayama (breathing techniques), meditation, and Yoga Nidra, business professionals can achieve inner peace and harmony, and increase their productivity. Dr. Akhilesh Sharma has performed several Ayurvedic workshops in the corporate world in various countries with good results.
Dr. Akhilesh has been travelling to the United States during many years as invited speaker, and guest faculty at international health conferences and in medical schools. Miami became his main area of activity where he interacted with many people from Spanish community, especially from Colombia. Dr. Akhilesh saw a deep interest in them about the subject and eventually visited Colombia eight years ago.
The response was overwhelming in all his public lectures and conferences about Ayurveda. He was invited to various intitutions like Universidad Juan N. Corpas, Fundación Santa Fé, Bogotá Chamber of Commerce, Pharmacology Conference, Universidad del Rosario, and Universidad de los Andes. People have been very receptive in Colombia.
Dr. Akhilesh has travelled to other Latin american countries like Perú and Ayurveda Mexico in the last two years and has observed that the interest for Ayurveda has grown significantly. Latin America has a huge potential for acceptance of Ayurveda. Many students are querying and visiting India and other parts of the world to study Ayurveda and bring it into practice.
La Escuela de Ayurveda de California offers the most comprehensive curriculum in the field of Ayurvedic Medicine in the West. The Ayurveda school is the premier educator for individuals seeking to make a difference in the world through a career restoring the natural balance of body, mind and spirit with the wisdom of http://www.escuelaayurveda.com.
For more information about Dr. Akhilesh Sharma visit to Colombia, please visit EscuelaAyurveda.com or call +1 530 616 VEDA