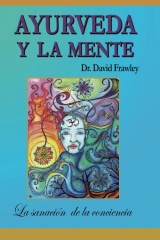 This is an excellent book. Abstract and very deep truths are lucidly conveyed without sacrificing intricacy or impact. If you are interested in psychology, spirituality, or Ayurveda, this is a wonderful, unique book. - Sadee Whip
Los Angeles, CA (PRWEB) August 03, 2012
Ayurmed has recently announced that is has published " Ayurveda y la Mente" published in Spanish and available in Latin America and Spain. The book is now available via Amazon ( Psicologia ayurveda) or directly through the publisher.
"Ayurveda y la mente" is the first book published in the west that explores specifically the psychological aspect of this great system. The book explores how to heal our minds on all levels from the subconscious to the superconscious, along with the role of diet, impressions, mantra, meditation, Yoga and many other methods to create wholeness. According to Deepak Chopra, the book "opens doors to a new energetic psychology".
Ayurmed is also the publisher in Spanish of El libro de cocina ayurvédica by Amadea Morningstar and Urmila Desai (Ayurvedic cookbook ) and Dr. Marc Halpern ¿Cómo sanar su vida? (Healing your life).
Ayurveda is the sister science to Yoga. It is a healing science from India that has been practiced for over 5,000 years by millions of individuals who aim to reach optimal health. Ayurveda uses a great variety of healing modalities including herbs, diet, colors, aromas, sound, lifestyle recommendations, panchakarma, meditation, and yoga.
Ayurmed is the largest publisher of Ayurvedic books in Spanish. For more details, please visit ayurmed.org