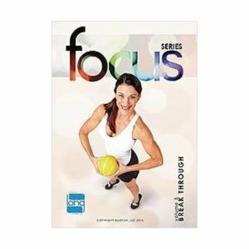 Using full range movements that FOCUS on extending through the body from head to toe while engaging the core, Break Through's cardio with resistance will re-define cardio as we know it.
(PRWEB) September 09, 2012
Acclaimed exercise physiologist and master instructor, Tracie Long, is at it again with the most comprehensive of all medicine ball workouts, "Focus: Break Through".
States Michelle at MedicineBallWorkouts.org, "Tracie Long's scientific approach to training allows her to capitalize on the benefits of medicine ball training. This 33 minute metabolism boosting workout is a compact, time-efficient program that utilizes a medicine ball for both fat-burning and body-sculpting. The ball increases the overall intensity while adding rotation and balance elements".
Medicine balls have been around for a long time, but only recently has the concept been tapped to capitalize on its endless variety. Fitness junkies are really beginng to catch on to the value of "mixing it up" (ex, cross fit), and Tracie Long shows how medicine balls fit into that mix.
"Tracie Long is at the top of the list when it comes to exercising with medicine balls", concludes Michelle.
Click here for the product website MedicineBallWorkouts.org or HERE for the full review.