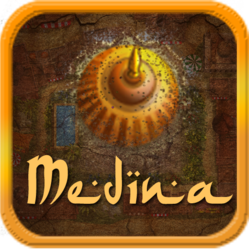 "Salaam Aklaykum, ...Que la paix vous garde, ...May Peace Hold you in her arms" MEDINA - WARNING Highly Addictive users have the chance to download the app for free. FreeAppADay( FAAD )
San Francisco, CA (PRWEB) July 10, 2012
Followers of 78x36 Productions Twitter and Facebook feeds will be the first to find out what 78x36 Productions is planning July 10, 2012. Users can also log in directly through the casual gaming app.
In the mean time, the popular game app, highlighted in the Featured section across the world in Apple's App Stores is now offering its app for free for just one day. Promoted by FreeAppADay, MEDINA - WARNING Highly Addictive WOW. Get yours while available. Updated with new game logic, the app offers new play with the all new Ammo Power Pak. Land mines, Knife fighting, and Bullets are available to players now! http://www.freeappaday.com/n/app.php?id=469010072 Enjoy the midsummer weekend extravaganza for FREE!
Also, free ring tone downloadable now for mobile devices. Check out MYXER for further details.
The Summer Games have never been better!
About The Developer
78x36 Productions is an independent developer of applications targeting platforms on iPhone, iPod touch, iPad, and now on Android. Specializing in gaming, reference, lifestyle, entertainment, and travel mobile device applications, our popular titles include- casual gaming MEDINA - WARNING Highly Addictive WOW, tennis reference 10S REF, and entertaining tour guide STAR STRUCK Hollywood Celebrity Tour USA.