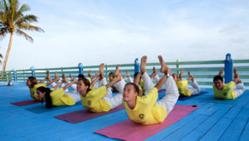 I learned meditation over 30 years ago and have practiced on and off over that time period. The depth to which this meditation course has outlined the many key elements of successful meditation simply astounds me.
San Francisco, CA (PRWEB) May 15, 2013
The meditation course program will take place May 17 - 22, 2013 in Nassau.
To achieve lasting happiness and absolute peace, we must first know how to calm the mind, to focus, and eventually to transcend the mind. By turning the mind inward, we can deepen our concentration and attain a state of meditation. Learn about the nature of the mind and how to develop concentration and inner stability. Be guided in basic meditation techniques and get inspired to establish a daily meditation practice.
Topics of this course include:
The purpose of meditation and self-enquiry
The nature of the mind & how to find peace of mind
Techniques of meditation & overcoming obstacles in meditation
Necessity of controlling emotions and thoughts
How to improve concentration
How to handle stress
Introduction to chanting and mantras
Ethical lifestyle: the fundamentals for meditation practice
The program will be presented by Swami Brahmananda, the manager of the Sivananda Ashram Yoga Retreat and a senior staff of the Sivananda organization. A long-time practitioner of Yoga, he regularly teaches yoga philosophy and meditation for the Sivananda Yoga Teacher Training Courses as well as Meditation Immersion courses. He is a much-loved, inspiring and knowledgeable teacher.
Located across the bay from Nassau, on one of the finest beaches in the world, the Sivananda Ashram Yoga Retreat is an island paradise with a tropical garden, crystal clear water and pure white sands - a true sanctuary of peace and natural beauty. Recognized amoung world Yoga Retreats, the ashram offers year-round programs presented by world renowned speakers, as well as certification courses on various yoga related topics through which you can expand your knowledge, gain a new skill and get certified while enjoying a joyous yoga practice and blissful relaxation. The retreat center also offers year-round Yoga teacher training programs.
The course is open to all. For more information, please call 1-866-446-5934 or visit sivanandabahamas.org