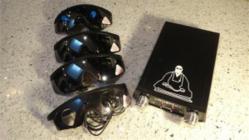 Los Angeles,CA (PRWEB) May 14, 2012
MindMachines.com will be enabling "virtual vacations" for interested Dallas, TX and San Fernando Valley, CA area firehouses during the summer of 2012. This bold, community outreach initiative features relaxation technologies that will visit participating fire stations for 2 week periods during the summer. "The idea behind this community service program is to promote relaxation therapy to our national heroes that risk their lives every day to protect us, the firemen.", says program developer Christopher Oliver, "Several relaxation technology and self meditation devices will tour participating firehouses for 2 week periods providing a virtual vacation. We invite interested firehouses in the Dallas, TX and San Fernando Valley areas to contact us at MindMachines.com to participate.".
One of the relaxation technologies that will be featured as part of this program is the pROSHI self-meditation device, which consists of a control unit and LED glasses. Light stimulation from the glasses consisting of frequency and phase information quickly induces a state of deep meditation very similar to that state achieved by highly trained Zen monks. AV3X brainwave entrainment/relaxation DVD videos will also be made available along with educational materials related to stress reduction.
Firehouses in Dallas and the San Fernando Valley are encouraged to contact MindMachines.com though their website, by email at store(at)mindmachines(dot)com or by calling (818)831-7931.