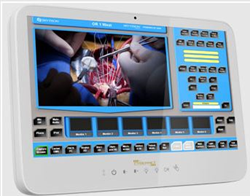 The SkyVision LINX 300 solves a lot of the problems seen with existing integration systems.
Winnipeg, MB (PRWEB) February 28, 2014
As Meditek is positioned as a leader and innovator of medical products in Canada, the introduction of the SkyVision LINX 300 is testament to the dedication of sourcing only the latest and most advanced medical technology. The SkyVision LINX 300 boasts the industry's easiest to use interface and is a vendor neutral system which allows for scalable growth to meet technology changes.
"As the needs and demands of the Canadian healthcare system are changing faster than ever, the ability to lead in new product development, is what separates Meditek. The SkyVision LINX 300 solves a lot of the problems seen with existing integration systems," explains Drew Samuels, Meditek Product Specialist.
To make room for the new SkyVision LINX 300, the the Hybrid II and Hybrid II S-Series Systems are being discontinued effective immediately.
The SkyVision LINX 300 manages cameras, scopes, and other OR device displays with simple touchscreen control, as well as:

Select and route images to any display
Display up to 4 images on a single display
Capture still images
Stream images in full 1080p HD outside the OR for consultation, education, and more
Consult with colleagues in multiple locations simultaneously
Create, save, and update surgical team and case preferences
Broadcast surgical timeout checklists
Control all room audio, including iPods, MP3 and wireless microphones
Record files and images in 1080p HD format
For further details, please go to the specifications here.
Contact Information:
Barret Davies, Marketing Coordinator
Meditek
1.800.567.8400
info(at)mediteksurgical(dot)com
http://www.mediteksurgical.com
About Meditek:
Meditek, located in Winnipeg, Manitoba, provides the Canadian healthcare industry with medical products found in the operating room, such as the surgical table, surgical light, stainless steel cabinets, and equipment carrier booms. More information about Meditek can be found at http://www.mediteksurgical.com.