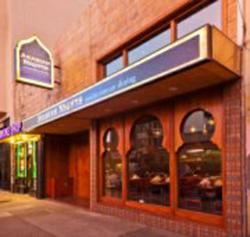 Our inviting restaurant is ideal for diners seeking excellent service, delectable dishes and an extensive wine list
San Francisco, CA (PRWEB) October 06, 2012
Arabian Nights is renowned for its delightful menu of Lebanese and Middle Eastern food, which is now available for lunch, in addition to dinner. The Middle Eastern restaurant recently released new hours to include lunch and is now open Mondays to Thursdays from 11 a.m. to 11 p.m., Fridays and Saturdays from 11 a.m. to midnight, and Sundays from 11 a.m. to 11 p.m.
"Our inviting restaurant is ideal for diners seeking excellent service, delectable dishes and an extensive wine list. Our spacious and stylish ambiance makes for a great private dining venue for your most special occasions. Enjoy the finest San Francisco Mediterranean food around at Arabian Nights," Naser Odeh of Arabian Nights said.
The San Francisco Lebanese food restaurant features delicious Mediterranean cuisine made from premium ingredients for signature dishes like the charbroiled meats, a variety of vegetarian and vegan dishes, and homemade mezza with freshly baked pita bread.
More than just an average hub of Middle Eastern and Lebanese food, Arabian Nights specializes in private parties that require an enticing environment where great service and authentic cuisine are available. Arabian Nights also provides a professional catering service for various events.
"Whatever your taste buds are feeling for lunch, dinner or catering, Arabian Nights is sure to have the perfect plate for you," Odeh said.
For more information about the new lunch hours, or any of Arabian Nights' products or services, call 415-854-0518 or 415-648-1444, view the Middle Eastern restaurant on the Web at http://arabiannightssf.com or visit 2345 Mission St. in San Francisco.
About Arabian Nights
Arabian Nights is a San Francisco Middle Eastern restaurant that specializes in authentic Middle Eastern and Lebanese food. It offers a wide variety of dishes to allow customers to enjoy a dining experience in an elegant venue with a professional staff that is ready to serve.