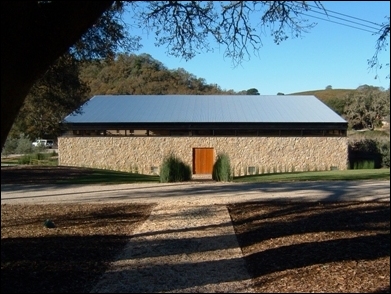 We chose to invest in solar power as part of our long term commitment to powering our business with clean, renewable energy
Healdsburg, California (PRWEB) April 5, 2007
Organic vineyard & winery uses solar power as integral part of sustainable business.
Medlock Ames winery is delighted to announce the anniversary of being solar powered. This commitment to renewable energy epitomizes the key role that sustainable business practices play at this small, forward thinking winery. Not only does solar power make clear environmental and long term economic sense in this application but it is also a part of a larger sustainable business philosophy.
"We chose to invest in solar power as part of our long term commitment to powering our business with clean, renewable energy," says Ames Morison, winemaker and partner at the winery, adding "but we decided to apply a truly sustainable approach to how we handled the installation and use of this wonderful technology". By using local vendors and contractors, and then opting to maximize efficiency by investing in electric vehicles and alternative farming and production methods, the winery has chosen to incorporate solar power into a larger business decision: to be as sustainable as possible.
This particular investment in solar power makes sense on economic, environmental and social levels. By opting to invest in premium components, local knowledge and careful planning the installation maximizes the positive effect on its local environment and not only saves money for the business but helps to keep more of the dollar investment within the local community. In addition to farming super-premium organic grapes, vegetables and livestock the winery now farms energy and plans on increasing this commitment in the future. "Owls and Hawks are often seen perching on our solar panels," notes Morison, a clear example of how this technological solution is truly integrated into the business of farming.
At Medlock Ames a series of six arrays totaling 84 kW produce 140,000 kWh annually - enough to power 100% of the business needs. This is the equivalent of 15 acres of mature forest and means that 1,691,374 lbs of carbon dioxide is spared from polluting our world. Harmony Farms, Warren Brown Construction combined to install Kyocera panels with Xantrex and Sharp invertors on a UniRac framework.
For additional information on Medlock Ames and organic, sustainable farming contact Kenneth Rochford or visit http://www.medlockames.com. Medlock Ames produces super-premium Cabernet Sauvignon, Merlot and Chardonnay from its Bell Mountain Ranch Vineyards.
About Medlock Ames Winery:
Medlock Ames is an Estate fine wine producer located in the Alexander Valley, Sonoma County, California. Established in 1998 with the goal of becoming a truly sustainable business, the winery considers its greenness to be among its greatest assets. The winery farms only 50 of its 335 acres, choosing to leave the majority of land in a natural state. Sheep, geese and horses are used to farm this boutique vineyard where vegetables, olives and wildlife also flourish.
Contact:
Kenneth Rochford
Medlock Ames
707.431.8845
http://www.medlockames.com
# # #