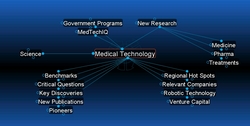 PersonalBrain's dynamic interface gives us an intelligent picture on otherwise invisible and complex business relationships, capturing the intricacies of how companies, academics, people and key concepts are related
Marina del Rey, CA (PRWEB) October 23, 2008
TheBrain® Technologies, the leading provider visualization software, announces that MedTechIQ has published several "Bioinfomediary Brains", on its social networking site to connect the dots between and link together vast networks of information on medical research, new ideas and venture capital.
"PersonalBrain's dynamic interface gives us an intelligent picture on otherwise invisible and complex business relationships, capturing the intricacies of how companies, academics, people and key concepts are related," said Conrad Clyburn, Co-Founder and Senior Partner of MedTechIQ. "Using PersonalBrain I can make better decisions about new technologies and investment, in addition to sharing my vision of this industry landscape with my Web community. The discovery aspect of my own PersonalBrain for myself and the ability to publish my Brain and perspective for my community members is astounding."
TheBrain Technology augments MedTechIQ's business intelligence digital backbone where the organization creates, discovers, manages and shares information on advanced medical technologies. MedTechIQ's Biointelligence Database is visualized with TheBrain's dynamically reconfigurable visual interface. Clicking on a Thought in TheBrain triggers all related information so users can see key relationships at a glance and find all related connections. The Brain has over 55,000 medical technology "Thoughts" encompassing technology transfer, academic medical research, global subject matter experts, funding programs, industry, venture capitalists and market sectors.
"When you click through Conrad Clyburn's digital brain it's like entering another world," said Shelley Hayduk, Co-Founder of TheBrain. "His Brain is a testament to a great thinker and leader in medical technology research. We're pleased that PersonalBrain can enable this level of expression and interconnectivity to help companies and communities like MedTechIQ innovate and enhance community collaboration."
Users can browser through MedtechIQ's Brains and join the research community at: http://medtechiq.ning.com/
Conrad Clyburn and TheBrain Technologies are hosting a Web Event, Thursday, October 23, 10:00 am Pacific, 1:00 pm Eastern Time entitled: "Visualizing Complex "Triple Helix" Collaborations: Using Personal Brain & Web 2.0 to Connect the Dots Between Life Sciences, Medicine and Venture Capital."
Topics Covered include:

Mind Mapping and organizing ideas, contacts and research
Making connections between related information and building your information network
Managing and changing large PersonalBrains
Shifting contexts quickly to hone in on the right information within seconds
Using your PersonalBrain as a presentation tool to communicate your vision
Publishing your Brain as a SiteBrain on your Web site for easy access and sharing
Attendees can sign up at http://www.thebrain.com/medtech.
About the Clymer Group:
The Clymer Group LLC, the creator of the MedTechIQ "Web Space" and the T2IQ consultancy, is led by an outstanding management team with a demonstrated ability to build category-defining enterprises. The Co-Founders and Senior Partners are Conrad A. Clyburn, MS; Greg T. Mogel, MD; and Jeffrey I. Roller, MD, FACOG. MedTechIQ is their premier product for aggregating academic, government & industry information on advanced medical technology. Visit the MedtechIQ social networking site at: http://medtechiq.ning.com/
About TheBrain Technologies
TheBrain Technologies creates productivity software that helps people organize, visualize and share knowledge. TheBrain's Enterprise Knowledge Platform, BrainEKP™, is a Web based knowledgebase that facilitates easy collaboration and information discovery. TheBrain's enterprise customers include: Encyclopædia Britannica, Navy Special Warfare, Tyco, Park Nicollet, Medtronic, the US Department of Defense, California Casualty Insurance and other Fortune 1000 organizations. TheBrain's personal information management and dynamic mind mapping software, PersonalBrain™, helps users see and organize their files and ideas from their perspectives, emulating their own unique thinking and work habits. For a complimentary download of PersonalBrain, visit http://www.thebrain.com/download . For more information, visit http://www.thebrain.com or e-mail info @ thebrain.com.
TheBrain, BrainEKP, and PersonalBrain are trademarks or registered trademarks of TheBrain Technologies LP. All other corporate names or trademarks stated herein are the property of their respective companies.
###