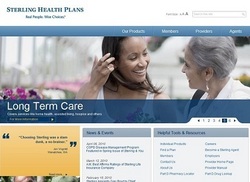 Cambridge, MA (PRWEB) June 30, 2010
MedTouch, a leading provider of interactive, web-based solutions for healthcare organizations, is pleased to announce the launch of a revitalized online presence for Sterling Life Insurance Company. The new website includes a full redesign and implementation of a robust content management system tailored to Sterling's specific business needs. Located in Bellingham, WA, Sterling Life Insurance Company provides insurance solutions for members in all 50 states. Sterling offers a variety of group and individual Medicare insurance plans including Medicare Advantage, Medicare Supplement and Medicare Prescription Drug plans. Sterling also offers individual non-Medicare insurance plans including critical condition, long term care and life insurance policies.
"The relaunch of sterlinghealth.com represents a significant milestone for Sterling and our online presence. The new site better represents our business and products and provides an improved user experience for potential customers, current members and healthcare providers. The upgraded technology platform positions Sterling for future enhancements as we create a stronger web presence," said Gary Boyd, Chief Administrative Officer of Sterling.
Sterling's website redesign was motivated by the need for online and offline brand consistency and Sterling's desire to develop a consumer-centric web presence. Advanced site functionality allows visitors to search, compare and sign up for health plans online, streamlining member transactions. The site's engaging design and presentation establishes trust and aligns with Sterling's excellent offline reputation. The new content-driven site also now reflects the high level of quality of service otherwise experienced by members and partners.
"MedTouch is pleased to help Sterling establish a solid online foundation to improve provider, agent and customer satisfaction. The new site's advanced functionality puts all the tools in the consumer's hands for an improved Sterling customer experience," said Paul Griffiths, CEO of MedTouch.
Sterling's new site and content management system is powered by Sitecore, a provider of .NET Web Content Management System (CMS) software. Sitecore's platform provides Sterling's content editors with a powerful workflow process for assigning, reviewing, editing and publishing Web pages. In addition, Sitecore's solution includes document, management tools, site-wide search and tracking capabilities, and search engine optimization capabilities.
"By collaborating with MedTouch, Sterling leveraged the firm's creative and design expertise and Sitecore's CMS platform to provide customers an engaging Web experience – furthering strengthening customer loyalty," said Jason Crea, VP Client and Partner Engagement, Sitecore. "To support the ever changing healthcare industry and keep up with online consumer behaviors, MedTouch and Sitecore are helping companies like Sterling provide an innovative Web experience that offers more timely and accurate information at lower costs."
About MedTouch
Whether consumer-focused web sites, employee-focused Intranets, or online recruitment efforts, MedTouch makes healthcare interactive. MedTouch provides strategy, design, technology, interactive marketing and innovation through its software and professional services practice. Clients include nationally-ranked academic medical centers, community hospitals, rehabilitation facilities, health plans, and health care-related not-for-profits.
Headquarters:
MedTouch
24 Thorndike Rd
Cambridge, MA 02141
866-638-6824
About Sterling Life Insurance Company
Established in 1958, Sterling Life Insurance Company is rated A- (Excellent) by A.M. Best, and is dedicated to providing a variety of affordable healthcare solutions to Medicare beneficiaries. Sterling is licensed in all 50 states and the District of Columbia and has offices across the country. Sterling is a subsidiary of Munich Health North America, Inc. For more information, visit http://www.sterlinghealth.com.
###