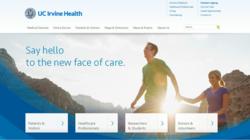 "This is a strategic process for UC Irvine Health and the MedTouch approach brought tangible value and was a key contributor to our success," said Teresa Conk, chief strategy officer for UC Irvine Health.
Cambridge, MA (PRWEB) May 15, 2013
MedTouch, the leading provider of online strategy for healthcare organizations and UC Irvine Health, the academic medical center serving Orange County, California together announce the launch of the new UC Irvine Health website, ucirvinehealth.org, powered by the MedTouch Healthcare Accelerator Framework for Sitecore version 2.0. The website's welcome message "Say hello to the new face of care" encapsulates the project's focus on user experience, which permeates all aspects of the site's design and functionality.
The new UC Irvine Health site incorporates more than one thousand pages of content, and features an improved information architecture, integrating physicians into the service line pages in order to make provider information easier to access. The new web presence, including the launch of a new URL, reflects UC Irvine Health's updated brand identity, replete with vibrant, expansive visuals. The responsive design allows the entire site, including modules, to respond dynamically to display on mobile phones as well as computer browsers.
The MedTouch project strategy for UC Irvine Health included significant content strategy work, including developing personas. The new brand and personas helped content development and influenced the tone of the site. An audience-based home page slider features four distinct website user categories: Patients and Visitors; Healthcare Professionals; Researchers and Students; and Donors and Volunteers.
The new ucirvinehealth.org is built on Sitecore Content Management System, which is optimized to manage content at the item level instead of the page level, creating dynamic relationships without increasing overall editorial time. The site leverages MedTouch Healthcare Modules, which present information based on a shared taxonomy of medical services. The MedTouch Modules deployed for UC Irvine Health include Find a Doctor, Locations, News, Clinical Trials, FAQs, Publications, Calendar Events, Contact Us, Services, Advanced Site Search and Krames StayWell Health Library integration.
UC Irvine Health saw the value of internal stakeholder engagement and strategically formed a cross-functional team that participated in milestone reviews. Throughout the process, the team remained focused on the goal of impacting business and patient volumes.
"We needed a company that understood the challenges of all of our constituents – from physicians and staff to chief administrators. MedTouch partnered with us on all aspects of our project, even on ways we could improve our internal processes and tracking," said Teresa Conk, chief strategy officer for UC Irvine Health. "This is a strategic process for UC Irvine Health and the MedTouch approach brought tangible value and was a key contributor to our success."
About MedTouch
MedTouch focuses exclusively on helping healthcare organizations succeed online. Since 2004 we have combined digital strategy with creative and technical excellence to ensure our clients -- hospitals, health systems and health plans nationwide - achieve results that matter. From healthcare specific content management solutions to user experience design; from results driven search marketing and content strategy services to public facing websites and employee oriented Intranets, MedTouch makes healthcare interactive.
About UC Irvine Health
UC Irvine Health is committed to providing the highest quality care to Orange County and surrounding communities through its world-class physicians, surgeons and clinical staff at UC Irvine Medical Center, Orange County's only university medical center. As the clinical arm of the University of California, Irvine Health Affairs, UC Irvine Health comprises University Physicians & Surgeons, the university's faculty practice organization, and UC Irvine Medical Center, a world-class academic medical center equipped with most advanced diagnostic and treatment facilities. With more than 450 specialty and primary care physicians, the medical center offers the full scope of acute and general care services, including the latest in robotic surgical techniques, the most advanced surgical suites and specialized cardiac care operating rooms, and a new diagnostic radiology suite.