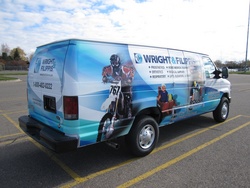 For an industry that depends on reliability, the home medical equipment trade needs a fuel like propane autogas
Washington (Vocus) November 15, 2010
MedTrade, a leading trade show for the home medical equipment industry, will feature propane autogas during its 2010 conference, slated for November 15 to 18 in Atlanta.
The event will showcase a van that runs on propane autogas in the Propane Pavilion and will welcome Propane Education & Research Council (PERC) representative Greg Zilberfarb as a featured speaker.
On November 18 at 9:45 a.m., Zilberfarb will talk about how new technology — and a mature refueling infrastructure — makes propane autogas an attractive alternative fuel for fleets. Attendees can see for themselves the difference propane autogas makes by visiting the Propane Pavilion, booth 2923, to check out an EPA-certified Roush Ford E-250 autogas-fueled van. Propane autogas representatives from CleanFuel USA, Roush CleanTech, and Georgia Gas will be on hand to answer questions.
"For an industry that depends on reliability, the home medical equipment trade needs a fuel like propane autogas," said PERC Vice President Brian Feehan. "Using propane autogas decreases the time vehicles are out of service for maintenance and reduces operating costs. Propane autogas is a strong choice for business, the environment, and the fleet manager's bottom line."
Compared with gasoline-fueled vehicles, vehicles that run on domestically produced propane autogas reduce greenhouse gas emissions by 17 percent, nitrogen oxide by 20 percent, and carbon monoxide by up to 60 percent. They also have fewer particulate emissions.
Based on a yearly average of 20,000 miles for vehicles in the delivery, transportation, and service industries, and an average fuel economy of 10.5 miles per gallon for a comparable gasoline vehicle, each E-250 autogas-fueled van displaces 1,665 gallons of gasoline a year, according to Roush CleanTech. A fleet of 1,225 vehicles would displace 2 million gallons of gasoline each year and 20 million gallons over a 10-year lifetime.
PERC promotes the safe and efficient use of propane autogas as a transportation fuel for its cost-effectiveness, efficiency and productivity, reliability, portability, and environmental friendliness. For more information on PERC and its programs, visit http://www.autogasusa.org.
For more information on the conference, visit http://www.medtrade.com.
The Propane Education & Research Council was authorized by the U.S. Congress with the passage of Public Law 104-284, the Propane Education & Research Act (PERA), signed into law on October 11, 1996. The mission of the Propane Education & Research Council is to promote the safe, efficient use of odorized propane gas as a preferred energy source.
# # #