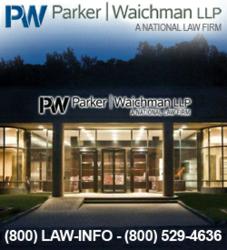 New York, NewYork (PRWEB) August 02, 2012
Parker Waichman LLP, a national law firm dedicated to protecting the legal rights of victims injured by defective medical devices, is advising patients who have undergone spinal fusion surgeries to contact their surgeons to determine if Medtronic Inc.'s Infuse Bone Graft product (also known as rhBMP2) was used in their procedure. According to the firm, the U.S. Food & Drug Administration (FDA) issued a safety alert in 2008 warning that Infuse Bone Graft had been associated with serious complications when used in cervical spine fusions, including excessive swelling in the neck, compressed airways, difficulty breathing, problems swallowing and nerve damage.
Parker Waichman LLP is investigating potential lawsuit claims involving a number of potential Medtronic Infuse side effects, including:

Ectopic or uncontrolled bone growth
Ongoing or chronic radiating pain in the legs or arms
Male sterility
Retrograde ejaculation
Nerve injuries causing severe and chronic pain
Cancer
According to Parker Waichman LLP, Medtronic Inc.'s Infuse Bone Graft is made from a genetically engineered material called rhBMP-2 (recombinant human Bone Morphogenetic Protein-2), which stimulates bone growth. It was approved by the FDA for use in only one type of spine surgery called anterior approach lumbar fusion, and two types of dental surgeries. However, the Wall Street Journal reported in September 2008 that at least three-quarters of the roughly 200 Infuse adverse events reported to the FDA at that time involved uses not approved by the agency. According to the FDA, the cervical spine fusion surgeries cited in its 2008 alert are off-label Infuse procedures.
In addition to the injuries noted in the FDA's alert, Infuse has been linked to a number of other serious side effects. In an article published in May 2011, The New York Times reported that a study conducted by Stanford University surgeon Dr. Eugene J. Carragee revealed that men treated with Infuse developed sterility-related complications at a far higher rate than men who received a traditional bone graft. In November 2011, the Times reported that another analysis conducted by Dr. Carragee had found that the high doses of Infuse that are often needed in off-label procedures could be associated with an increased risk of cancer.
Last summer, the Spine Journal raised serious questions about the validity of the research that was used to gain FDA approval of Infuse. According to a critical analysis of 13 Medtronic sponsored clinical trials for Infuse published by the Journal, the studies failed to report serious complications, including cancer, retrograde ejaculation, sterility in men, infections, bone dissolution and worsened back and leg pain, in patients treated with the product.
Parker Waichman LLP is currently offering free legal consultations to victims of Medtronic Infuse Bone Graft Injuries. If you or a loved one suffered a serious complication or injury after receiving Medtronic Infuse in an off-label procedure, please contact their office by visiting the firm's Medtronic Infuse injury page at yourlawyer.com. Free case evaluations are also available by calling 1 800 LAW INFO (1-800-529-4636).
Contact:
Parker Waichman LLP
Gary Falkowitz, Managing Attorney
(800) LAW-INFO
(800) 529-4636
http://www.yourlawyer.com