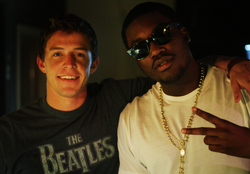 Philly teams up and goes big! Look for these two on the map . . .
Philadelphia, PA (PRWEB) November 11, 2010
Philadelphia pop artist Dave Patten has teamed with Philly hip hop star Meek Mill on the track "How Good", which was produced by Patten. The tune is an upbeat journey south in search of warmer weather and good times. Shot on location in Miami, the music video is a vision from South9 Entertainment, another Philly based company specializing in music videos. "Pop and hip hop are a natural combination," according to Patten.
"How Good" will be on Dave Patten's latest album release scheduled for later this year entitled "Exposure." This will be his sixth full length album issued on the Clark Records label.
Meek Mill has risen to the top of the Philadelphia hip hop scene and has released a number of mixtapes, including his most recent "Mr. Philadelphia." He has sold hundreds of thousands of those mixtapes and is extremely popular on Twitter (@meekmill) and Facebook, too.
This video is a followup to South9 Entertainment's award winning hybrid short film and music video entitled "Inside", the official selection of five film festivals across the country which has also won a number of festival awards.
Visit the South9 Entertainment website for more information on the company and quotes for your projects.
# # #