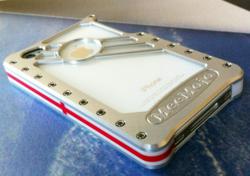 (PRWEB) April 26, 2012
MeeMojo has added an entire new flare to their already successful line of iPhone 4 and iPhone 4s cases. Customers can now get a unique team case to represent their favorite National Team with the new line of "Euro Cup 2012 Elite 16" cases. All 16 cases have distinct national colors individually machined from a high density polymer that are guaranteed to get you noticed. These new cases are compatible with either the iPhone 4 or the iPhone4s.
The MeeMojo cases offer great styling and loads of attitude for that "eye poppin' look and feel to protect your iPhone 4 and iPhone 4s. With the addition of the Euro Cup 2012 series, the fans can really let their personality shine through while representing their favorite national team. MeeMojo's "Edgy" and "Slick" aluminum cases have already been developing a reputation that they are "tough as nails" protection for the iPhone4/4s.
Each case is machined from a solid 6061-T651 billet aluminum alloy. Cases are hard plated to ensure the highest level of durability, and now come in an even wider array of color options. Each case also contains brightly polished stainless steel fasteners, which add strength and allow for quick installation. The cases also contain an ergonomically sculpted top plate. Allowing the ability for the user to quickly locate and access the home button by guiding thumb to naturally settle on to the machined oval pocket. All buttons including the headphone jack remain clear and unobstructed. MeeMojo's Slick cases have been designed to fit on most docking stations. Both the Slick and Edgy cases can be accepted in most high quality car holders and docks. These attributes are what allow the MeeMojo cases to provide unsurpassed style and protection with the attitude to outperform all other cases.
About MeeMojo:
MeeMojo.com is partnered with their parent aerospace company to create and manufacture unique aluminum protective cases for everyday items. MeeMojo has chosen to start with the iPhone 4, iPhone 4s and iPad2. They do, however, have plans to come out with stylish cases for other great products. All MeeMojo products are 100% manufactured in North America. MeeMojo also offers custom products for corporations, teams and clubs. If any organization would like a unique look that will give them the marketing edge with image recognition, or for any additional information, please visit http://MeeMojo.com/