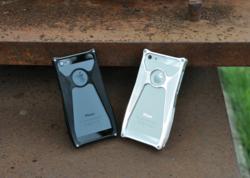 We have worked very hard to create the best armor for the iPhone 5.
(PRWEB) October 03, 2012
MeeMojo.com, the leader in billet aluminum iPhone and iPad cases, has begun presales for their newest aluminum case that is designed for Apple's iPhone 5. The new design, titled the "Legend" series adds to their already successful lines of iPhone 4, iPhone 4s and iPad billet aluminum cases. Customers can now choose from 4 different finishes for the new billet aluminum iPhone 5 case, each one is machined and designed to provide style and protection with attitude.
The MeeMojo cases offer "Legendary" styling and loads of attitude for that "eye poppin' look and feel to protect your iPhone 5. Each case is manufactured from two individual billet aluminum blocks, joined together with 8 brightly polished stainless steel fasteners. Each case is CNC milled using 3D machining techniques similar to complex aerospace components. The cases are available in four distinct finishes:
"Billet Alloy" is the brightest and most reflective surface available. Clients that prefer the look of uncoated aluminum will certainly appreciate Billet Alloy.
"Bright Natural" offers the addition of a natural anodized coating that softens the reflective nature of the aluminum.
"Black Onyx" has a rich black anodized coating that is both durable and glossy in appearance.
"Jet Black" is for the hot rodder at heart. Flat black is the hottest look everywhere.
MeeMojo proprietary innovation is their polymer insulators. They are specifically designed to suspend the iPhone within the aluminum shell. Each case comes with precisely machined polymer insulators ensuring complete contact all around the iPhone's stainless steel edge.This achievement means no part of the iPhone comes in contact with the aluminum shell. Combining Aluminum and a Polymer edge, ensures that the MeeMojo case is the strongest and longest lasting protection available for the iPhone.
Other great features of the "Legend" series are that the design provides unimpeded antennae reception as well as an ergonomic minded design. While providing unsurpassed impact resistance, the polymer insulators ensure the highest degree of unimpeded antennae reception available on any aluminum case. Also, the ergonomically sculpted top plate means that you don't have to look for the home button, your thumb will naturally settle onto the machined oval pocket. All buttons including the headphone jack remain clear and unobstructed. Designed to also be accepted in most high quality car holders and docks means your iPhone will always be secure.
MeeMojo is "Style" and "Protection" with "Attitude". Tania Todorovic co-owner of MeeMojo says they have worked very hard to create the best armor for the iPhone 5. These cases are currently available for preorder at meemojo.com and will be ready for distribution by the second week of October.
About MeeMojo:
MeeMojo.com is partnered with their parent aerospace company to create and manufacture unique aluminum protective cases for a variety of mobile devices. MeeMojo has chosen to start with the iPhone 4, iPhone 4s, iPhone 5 and iPad. They do, however, have plans to come out with stylish cases for other great products. All MeeMojo products are 100% manufactured in North America. For any additional information, please visit http://MeeMojo.com/