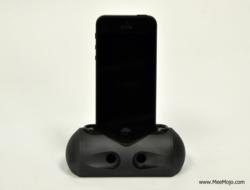 Sturdy, strong and unbreakable, this dock is sure to be a home run with Apple fans.
San Francisco, California (PRWEB) December 12, 2012
The MeeMojo iPhone 5 Heavy Dock is unlike any other iPhone dock available. Sturdy, strong and unbreakable, this dock is sure to be a home run with Apple fans. The dock, which is available in billet aluminum with a Jet Black finish or in a natural frosted finish, will be available just in time for Christmas. Even more impressive is that MeeMojo also make an all Stainless Steel version, at over 2 ¼ pounds of Chromium Alloy. By far, this is the most unique dock available.
Both versions include SSCT (Speakerless Sound Channelling Technology) tuned for enhanced mid tone range, designed exclusively by MeeMojo. "With so many good docks available on the market, we wanted to craft a truly unique dock that is distinctively MeeMojo" says Tania Todorovic owner of MeeMojo.
The HEAVY dock is exactly that, heavy! This feature ensures a very stable platform to dock your iPhone. The HEAVY dock is also conveniently compact, designed to fit neatly anywhere you'd like to have access to your iPhone. As with most docks the USB charging cable is available separately. The MeeMojo HEAVY dock is designed to accept an Apple 30 pin adapter or Lightning adapter like the one that comes with the iPhone.
However unlike other docks, the HEAVY dock allows you to change cradles when you upgrade to next generation iPhones. If you purchase it for your iPhone 4 and later upgrade to the iPhone 5, then simply replace the polymer cradle with the new cradle available through the accessory page on MeeMojo's website. Tania Todorovic had this to say "the HEAVY dock is built to last and adapt to the rapidly changing world of technology. Style and Protection with Attitude is not only our motto but our guiding philosophy and it is something we take very seriously".
MeeMojo entered the iPhone case market with the highly praised iPhone 4 "Edgy" aluminum case. They have since added cases for the iPad, iPhone 5 and now the "HEAVY" dock. All share the unique MeeMojo look and high quality reputation that distinguishes MeeMojo accessories.
For more information about the MeeMojo HEAVY dock visit http://www.MeeMojo.com